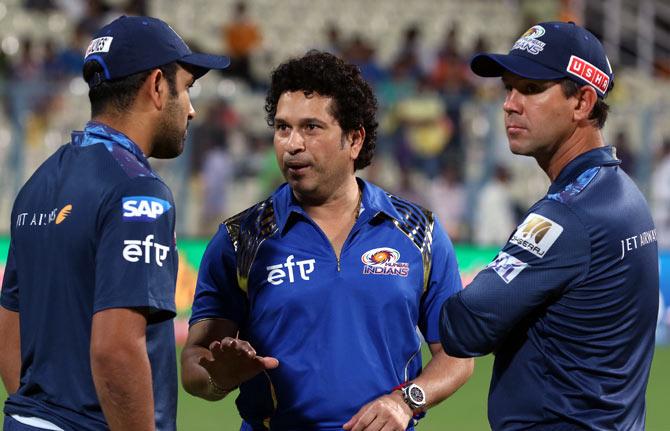 (From left to right): Mumbai Indians captain Rohit Sharma, team icon Sachin Tendulkar and head coach Ricky Ponting. Photograph: BCCI
Emphasising the importance of Thursday's Indian Premier League match against Kolkata Knight Riders, Mumbai Indians coach Ricky Ponting termed the clash against the defending champions as a 'virtual final' for his team.
"Tomorrow's game is almost like a final. Tomorrow's game becomes the most important game for us in the tournament. That's the way we will approach the match," said Ponting on Wednesday.
While the Knight Riders are just one win away from entering the play-offs stage of the tournament, Mumbai need a victory to boost their chances of going through.
The Mumbai outfit can make the play-offs even after losing, provided the other results pan out in their favour.
Ponting stressed on the importance of giving 100 per cent against Kolkata.
"It's no good looking at the mathematics, no good looking at what other teams are doing. We have no control over that. We obviously have control over our performance and that's what we are focusing on. We are training and preparing today and make sure we are ready to play our best game of the tournament tomorrow," said the former Australia captain.
Ponting has advised his bowling unit to forget the thrashing it got from the Royal Challengers Bangalore, and in particular AB de Villiers, who slammed a breathtaking 133 not out from 59 balls in their previous game that Mumbai lost tamely.
"I made it clear to the guys at the end of that game that we need to move on and leave that result behind. AB's innings was perhaps one of the best I have seen in this format of the game," he said.
"What I was really pleased with was the way we fought with the bat the other night. We scored almost 200 ourselves. That will have to be the positive from that game for us. If you look at the stats of day games at this venue, 165 is the par score, so both teams had played exceptional cricket.
"Unfortunately RCB was too good for us that day, thanks to a couple of very good innings from de Villiers and (Virat) Kohli," Ponting added.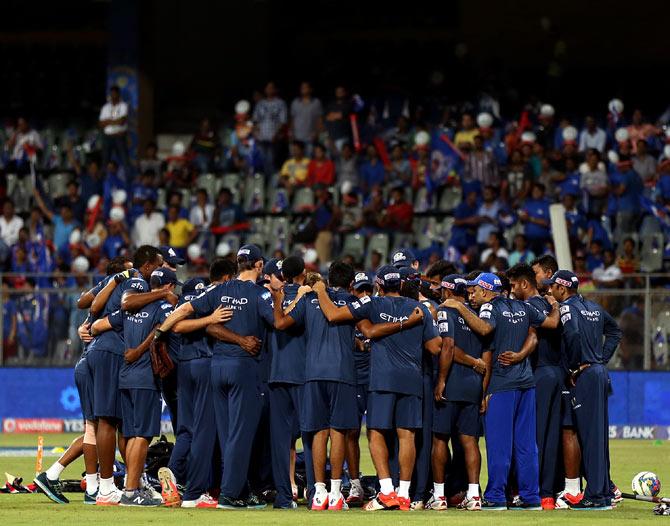 The Mumbai Indians players in a huddle. Photograph: BCCI
The coach pointed out that he had a meeting with his bowlers and spoken to them about performing in the next couple of games.
"We have moved on from that. We had our bowlers' meeting today and we reinforced to all the bowlers how important it is for them to move on from that last game, forget about that performance and get well-prepared to the big challenge coming from KKR," said Ponting.
Recollecting last year's last-gasp entry of Mumbai Indians into the play-offs, Ponting said: "We have got a team which, if it plays somewhere close to its capabilities, is one of the better teams in this tournament. We have shown that with some of our better performances that we can beat anybody on our day. That's the way we have to turn up and play tomorrow.
"The team lost five games last year, they had their backs to the wall but were able to turn things around and sneak through with an amazing game (against Rajasthan Royals) in the last match in the qualifiers. I hope that's the case, I hope the guys like the pressure and thrive on the pressure."
Despite Mumbai boasting of a better head-to-head record (10-5) against KKR, Ponting insists the past be best forgotten.
"I am not a huge believer about things which have happened in the past. I mentioned that to the guys in the first game of the tournament in Kolkata that we have a very good record against KKR in Kolkata. But from game to game things can change pretty quickly. The momentum some teams have got now is totally different from others. What happened in the past, we forget."
Ponting feels Kevin Pietersen, who is expected to join Sunrisers Hyderabad, is unlikely to play against MI in their last game on May 17 at Hyderabad.
"Even if he's coming I don't think he will play in the last game as their team is settled as well. Moises Henriques is playing well and Eoin Morgan is back and is playing well over the last few weeks.
"But when he arrives I am sure there will be a bit of a media circus around Kevin over the events over the last few days. 355 not out in his last county game and then being told he's not going to play for England during this summer! May be a lot of focus will be on him and the Sunrisers and not so much on us when we arrive at Hyderabad for that last game.
"We might be able to sneak under the radar up there. We will try and win this game first and I am sure when Kevin arrives there will be a bit of excitement around," said Ponting.