A plaque in the honour of late India cricket legend Mansur Ali Khan Pataudi was unveiled at the Oxford University pavilion here in the presence of his family.
The plaque was installed on the wall of the historic pavilion in the University Parks on Friday in presence of his widow Sharmila Tagore, eldest son Saif Ali Khan and his fiance Kareena Kapoor, daughters Saba Ali Khan and Soha Ali Khan and her partner Kunal Khemu, who were welcomed by Chancellor Lord Patten and Vice-Chancellor Professor Andrew Hamilton to the campus.
- Pataudi Special: Tiger Tales
The family later had lunch at Balliol College, and then visited the Ashmolean Museum where they explored the India collection including the gallery of Mughal paintings, and watched the 160th anniversary match of the Harlequins -- the club for former Oxford cricketing Blues.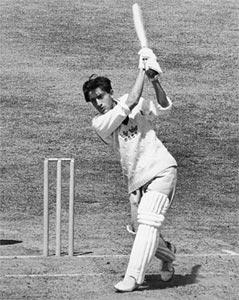 Andrew Thomas, head of development (sport) at the University, said: "We are delighted to honour a legend in Oxford and India by installing a permanent plaque in the University's historic cricket pavilion in the Parks."
Mansur Ali Khan Pataudi studied Arabic and French at Balliol College and famously scored centuries in three consecutive first-class matches for the Blues.
Despite losing an eye in a car accident, he went on to captain India between 1961 and 1974.
He was named Wisden Cricketer of the Year in 1968 and died aged 70 in September last year.