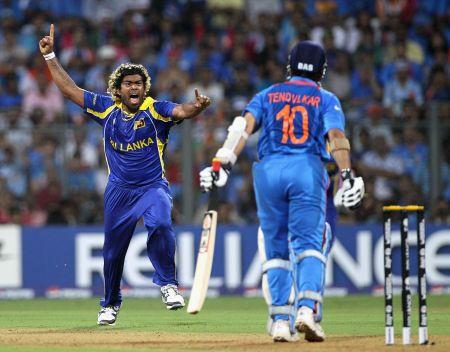 Appreciating speedster Lasith Malinga, Sachin Tendulkar said the Sri Lankan is a world-class bowler and that it was a fantastic experience to play with him in the Indian Premier League.
"It's a difficult answer. Malinga, it's totally a different type of action. I don't think any other bowler in the world, I have seen at the international level, who comes even 50 per cent close to that. A truly world-class bowler, true champion.
"Having played with him for Mumbai Indians was a fantastic experience. Thorough gentleman. On a lighter note, when many people ask me how to play him, I say 'bal ko nahin, bowl ko dekho (don't look at the hair, look at the ball)," said Tendulkar.
Tendulkar's comments came in response to a question posed by the moderator on how to play Malinga.
Replying to a query on his likeness for Hyderabad, Tendulkar said he and the whole team looked forward to playing in Hyderabad and the 'biryani' the city is famous for.
He said he quietly stayed at the famous Falaknuma Palace in the city for two days along with his family.
"I kept hearing a lot, lots of things about Falaknuma from my friends. I wanted to have that royal experience. So, with my family, I had come there quietly for couple of days. I spent two days at Falaknuma Palace. It was an enriching experience. To build a palace like that, it must have taken so much time. That imagination, that vision to have something as spectacular as that. It is something that stays with you forever. That experience has been special," Tendulkar said.
Image: Lasith Malinga celebrates after dismissing Sachin Tendulkar
Photograph: Hamish Blair/Getty Images