After news of Lou Vincent's ex-wife's match-fixing testimony came out, former New Zealand Test cricketer Chris Cairns has continues to stay firm on the stand that he is innocent.
Cairns's name was publicly linked with sworn evidence to International Cricket Council investigators for the first time on Tuesday, as the former New Zealand all-rounder issued a second statement in a 12-hour period.
"I totally reject the allegations against me, and I will prove this," said Cains.
According to The Age, the latest leaked evidence is a sworn 10-page document from Elly Riley, Vincent's ex-wife, that she provided to anti-corruption investigators last October.
It follows leaks in the past week of former Test opener Vincent's explosive 42-page testimony, and New Zealand captain Brendon McCullum's signed three-page statement, both of which are understood to name Cairns as a fixing ringleader.
Riley's evidence was that the fixing began at the Indian Cricket League in 2008, and Vincent told her: "Chris was going to pay him $50,000 a game for the fixing."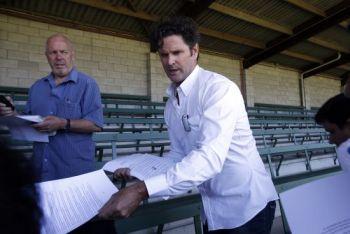 Vincent was confronted by a stranger with a suitcase full of money shortly after, but two weeks later things went awry, Riley said in her evidence.
"I got a phone call from Lou and he was crying, saying he'd just lost Chris Cairns $250,000 or something like that because he got things wrong."
Riley alleged the fixing continued in English County cricket, and the more players that were involved, the more money Cairns would receive.
She confronted Cairns during a night out in Manchester in 2008. He told her they were safe, everyone did it (fixing) and no one would get caught.
"I said that you're involving so many players - you're involving the whole team and by doing that you're getting greedy. I just can't see how information on the fixing is not going to leak out to others and you're not going to get caught," Riley said in evidence.
"Chris said that I was right, but told me not to worry as he had it all under control. Chris just sort of laughed it off."
In 2012, he won £90,000 pounds in a libel action against former Indian Premier League chairman Lalit Modi in London over a tweet alleging he was involved in match-fixing.
Cairns said he had already proved in court that he was not a match-fixer and urged people to reserve judgement on him until all facts were out in the open.
"I believe there are dark forces at play. These forces have long arms, deep pockets and great influence," he told the Dominion Post.
"I acknowledge that recently I have upset some powerful people in the world of cricket, including raising my own concerns about the state of the game. I believe I am playing the price for that now."
Image: Chris Cairns (right)