Former New Zealand cricketer Lou Vincent has provided officials from the International Cricket Council's anti-corruption unit "with a treasure trove of information about matches which were targeted for spot-fixing and the names of players who were involved", the London Telegraph reported on Thursday.

Vincent, 35, has agreed a plea bargain in the hope of avoiding a criminal prosecution for his involvement in and knowledge of spot-fixing in five or more countries between 2008-2012 when he played in Twenty20 leagues in India, England, South Africa and Bangladesh.
- 'We will never be able to stop spot-fixing'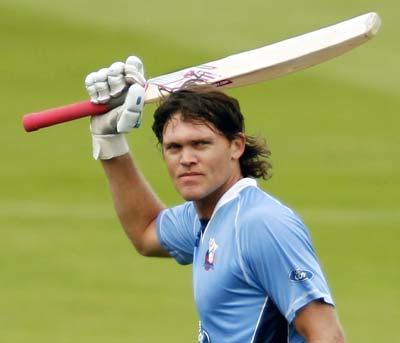 He had revealed in December that he confessed to an ICC tribunal investigating fixing in Bangladesh earlier this year that he had been approached by an illegal bookmaker and had promised to co-operate into probe of the same. His former New Zealand team-mates Chris Cairns and Daryl Tuffey were also named in the investigation.

Interestingly, the three players had played for the Chandigarh Lions in the now-defunct Indian Cricket League, where Vincent said players were offered bribes of money and prostitutes by shadowy figures involved in the tournament. He has also provided names and dates of meetings with fixers which are being cross-referenced by the ICC, the report added.
- How Sreesanth, Chavan and Chandila fixed matches
Some of the domestic matches played by English counties are among those about which Vincent has provided detailed evidence from the period when he was playing for Lancashire and Sussex, along with details of fixing in at least four other countries. He has also informed them of the details of an approach by another corrupt player to a current international captain, who turned down the offer and reported it to anti-corruption officials.

The report further states that the ICC are close to charging a former Pakistan international player based on evidence provided by Vincent.

Also, some of the match of the 2012 edition of the Champions League T20 which was played in South Africa is also under investigation. Vincent has reportedly given information on fixing when he played for the Auckland Aces in the Champions League T20.

Vincent played 23 Tests and 103 One-Day Internationals for New Zealand during an international career spanning from 2001 to 2007 after which he became a Twenty20 freelancer and featured in leagues in England, India, Zimbabwe, South Africa, Bangladesh and New Zealand.

New Zealand Cricket's CEO David White, stated that none of the current international New Zealand players are under investigation.

"Firstly I want to make it clear that this is an ICC investigation and New Zealand Cricket is very limited in what it can say, but we can confirm the following. No games played in New Zealand are being investigated by the ICC. No current Black Caps are being investigated. No matches involving New Zealand national teams are being investigated," White said.
Image: Lou Vincent
Photograph: Martin Hunter/Getty Images