Having clashed with the BCCI over issues ranging from FTP to DRS during his time in the ICC, Cricket South Africa's newly-appointed CEO Haroon Lorgat is willing to go the extra mile to improve relations with India and said he was ready to apologise if need be.
Lorgat was recently appointed CSA's chief executive but the BCCI's objection acted as a roadblock before the South African board convinced its Indian counterparts.
The Indian board is believed to have harboured dissatisfaction with Lorgat from his time at the International Cricket Council, where it clashed with him over issues ranging from the Future Tour Programs and Decision Review System to the corporate governance review.
"I am saddened by these inferences and I did not expect such a poor relationship to have formed. I don't like to be out of favour with someone I thought was a friend. I will do my best to understand the concerns," Lorgat said.
"If I need to sit across a table, to go to India, whatever it takes to smooth things over, I have to put CSA first. When the issues come out, if it means I have offended someone and I need to apologise, I will," he was quoted as saying by ESPNcricinfo.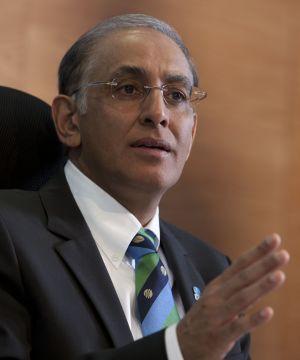 Lorgat seemed to be in no mood to further ruffle feathers in the BCCI.
"We have to respect India and it's up to me to fix up anything that needs patching," he said.
Asked if he thought the BCCI used its financial clout to exert its will, Lorgat said, "I think in anything too much dominance of one person is not good. But I also think we should not begrudge strong people. We should aspire to be as strong as they are."
Lorgat is also seeking to restore the image of CSA, which has taken a beating following the IPL-2 bonus scandal that led to the sacking of former CSA president Gerald Majola.
"What's happened in the past was not what anybody wanted to see. I am confident the reputation will improve. I am impressed by the new board and I think we have good people who will ensure corporate governance," he said.
Image: Haroon Lorgat
Photograph: Jack Dabaghian/Getty Images for ICC