A top contender for the CEO's post in Cricket South Africa, Haroon Lorgat's appointment could end up creating a rift between the CSA and the Board of Control for Cricket in India, which is opposed to the former ICC official joining.
Lorgat is among the three contenders short-listed by CSA for the post and, technically, the favourite, given his administrative experience in international cricket. However, the BCCI's opposition could go against him.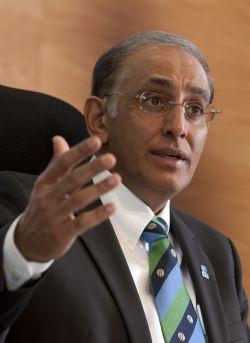 There are reports that the BCCI has threatened to pull out of the upcoming tour to South Africa if the former ICC CEO is appointed CSA's CEO, something that was confirmed by the CSA's independent director Norman Arendse earlier.
BCCI apparently did not have the best of equations with Lorgat during his ICC stint.
No BCCI official in India was willing to speak openly on the issue, but a top Board functionary said that the BCCI would prefer if Lorgat is not selected.
The BCCI is also miffed with the CSA for announcing the itinerary of the upcoming series without consulting it.
India is opposed to the seven-match ODI series announced by CSA.
Some of the other contenders for the job are Bheki Shongwe, MD of Kaizer Chiefs, South Africa's current football champions, university professor Denver Hendricks and head of Kagiso media Murphy Morobe.
But given that none of them have any experience of cricket administration, makes Lorgat a strong contender if not for the BCCI's opposition.
Photograph: Jack Dabaghian/Getty Images for ICC