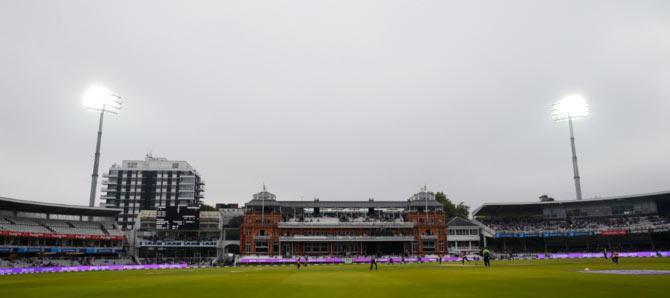 The Lord's cricket ground in London. Photograph: Harry Engels/Getty Images
Lord's should host the 2019 50-over World Cup final, the England and Wales Cricket Board recommended to the International Cricket Council on Wednesday.

The hallowed ground, which staged the World Cup final in 1975, 1979, 1983 and 1999, has also been put forward to host the women's World Cup final in 2017.

The ECB also suggested to the ICC that the opening game of the 2019 tournament should be staged at The Oval, London, with the semi-finals to take place at Old Trafford, Manchester, and Edgbaston, Birmingham.

The ECB confirmed that Edgbaston and Old Trafford have been allocated Ashes Tests for the 2019 series.

The other three venues -- Headingley, Lord's and The Oval -- had already been awarded Ashes Tests in 2019.
"Lord's Cricket Ground in London has been proposed as the venue for the ICC Cricket World Cup final when the tournament is staged in England and Wales in 2019 – and will also host the ICC Women's World Cup final in 2017," the ECB said.
It will also recommend to the ICC that the semi-finals in the 2019 World Cup should be allocated to Old Trafford, Manchester, and Warwickshire's home of Edgbaston, with the opening game being staged at The Oval.
"The tournament should also see Taunton host international men's cricket in 2019 for the first time since the1999 World Cup, when two matches were played at the County Ground."
There will also be proposed group matches for Durham, Leeds, Nottingham, Cardiff, Bristol and Southampton. All venue allocations are subject to approval by ICC.
Lord's staged the first three ICC Cricket World Cup finals in 1975, 1979 and 1983. The West Indies won the first two finals – their only World Cup successes – while India recorded the first of their two World Cup triumphs in 1983.
In 1999, Australia won the first of their three consecutive World Cups in the fourth final to be staged at Lord's.
Giles Clarke, the ECB chairman, said: "ECB is extremely proud to be staging the tournament which follows the Olympics and the Rugby World Cup in the list of truly global events being held in this country.
"Multi-cultural Britain ensures that all the teams competing in the ICC Cricket World Cup will have generous support in all the games they play in what promises to be a global celebration of cricket."
Lord's staged a Women's World Cup final in 1993 when England beat New Zealand by 67 runs but this was before the tournament came under the auspices of the ICC.
The remainder of the venues for the ICC Women's World Cup will be recommended to the ICC by the ECB Board in April.