Check out Aruneel Sadadekar/Rediff.com's Dream IPL XI!
David Warner, Sunrisers Hyderabad, Captain
Innings: 17. Runs: 848. Highest Score: 93 not out. Average: 60.57. Strike Rrate: 151.42. 50s: 9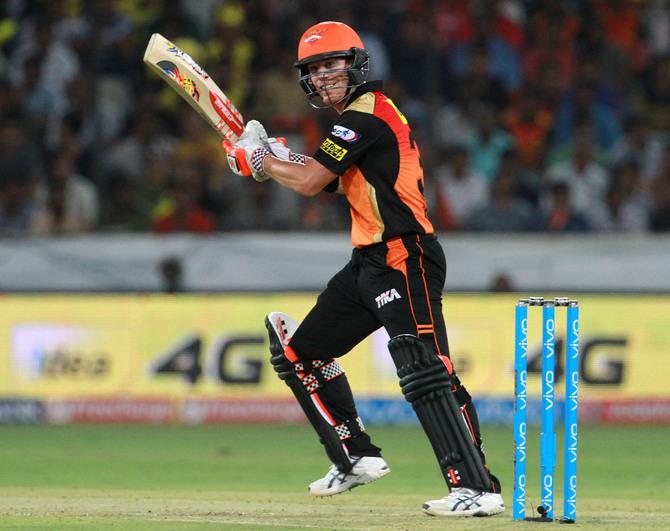 IMAGE: David Warner during his match-winning 90 off 59 balls against the Mumbai Indians at Hyderabad. Photographs: BCCI
Watching David Warner celebrate after the final, one understood how much the Sunrisers Hyderabad skipper will cherish this long-awaited triumph.
The Aussie tornado hit 9 fifties -- the most in the tournament.
After the team lost its first two games, Warner scored an unbeaten 90, 74 not out and 59 to contribute to the hat-trick of victories that followed.
From then on, there was no looking back for the Aussie left-hander as he accumulated 90, 46, 52 and 73 to guide SRH into the play-offs.
Warner saved his best for the last two games, smashing 93 not out and 69 off 38 balls in the Eliminator and final respectively.
His captaincy was the game-changer for SRH. The power-hitter showed remarkable leadership skills to guide a young team to a well-deserved title.

Virat Kohli, Royal Challengers Bangalore
Inn: 16. Runs: 973. HS: 113. Ave: 81.08. SR: 152.03. 100s: 4. 50s: 7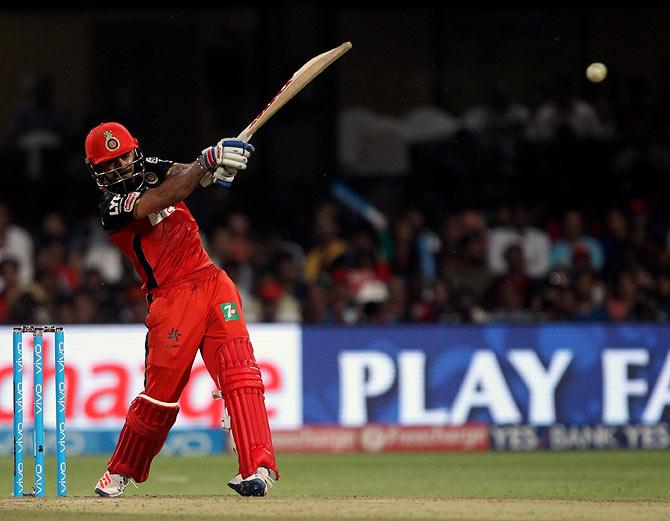 IMAGE: Virat Kohli hits a six in IPL 9.
The Indian run-machine was only 27 runs short of becoming the first batsman to score 1,000 runs in a T20 competition.
Such was Kohli's dominance that players from rival teams were in awe of him.
'Dear Virat Kohli, can you please stop making batting look so easy; it's embarrassing for most other batters in the world,' Gujarat Lions batsman Aaron Finch -- a big hitter himself -- tweeted after one of Kohli's spectacular knocks.
A maiden IPL title may have been elusive for King Kohli and his team, but Virat did enough to win hearts.

A B de Villiers, Royal Challengers Bangalore
Inn: 16. Runs: 687. HS: 129 not out., Ave: 52.84. SR: 168.79. 100s:1, 50s:6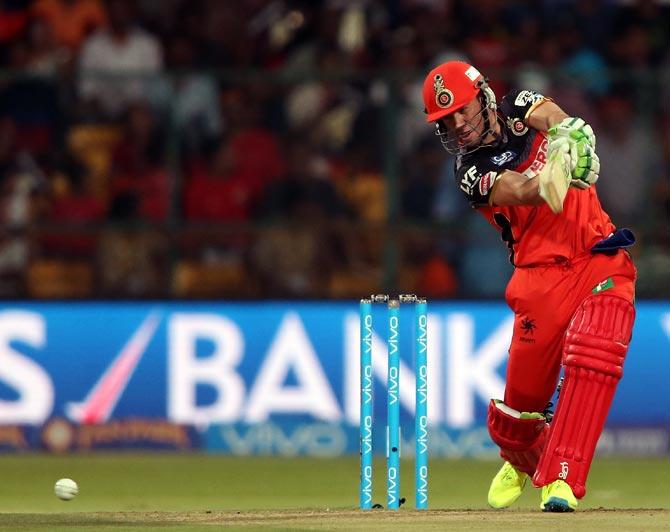 IMAGE: A B de Villiers, always a class act.
If Kohli accumulated runs, AB's stroke-play terrorised rival teams.
When the chips were down for RCB in the Qualifier against the Gujarat Lions, the South African bailed out his team from a precarious 68/6 by hammering 79 not out.
Awed, Kohli hailed AB as the 'best batsman in the world.'
AB's electrifying fielding in the deep and some splendid catching played a crucial part in his team's progress to the final.
Yuvraj Singh, Sunrisers Hyderabad
Inn: 10. Runs: 236. HS: 44. Ave 26.22. SR: 131.84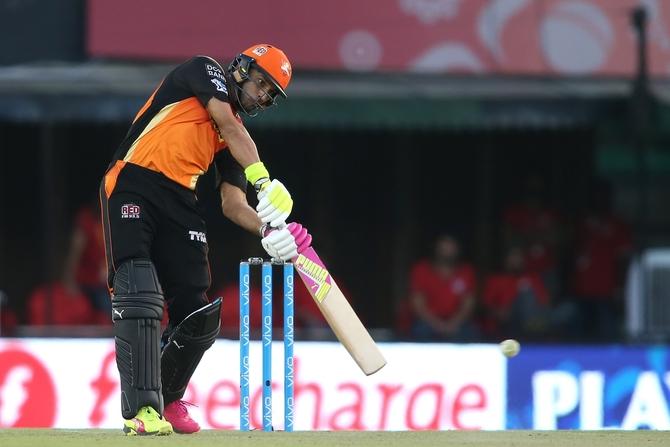 IMAGE: Yuvraj Singh seemed to have got back some of his mojo.
Absent for the first part of the tournament, his name in this team will surprise many. But tell us how many players can boost an ordinary team?
Yuvi not only strengthened the Sunrisers middle-order, he contributed on the field with crucial run-outs, the one in the Eliminator standing out.
Despite not scoring a single half century, his 23-ball 39 against the Mumbai Indians, unbeaten 42 off 24 balls vs the Kings XI Punjab, 44 off 30 in the Eliminator (the highest score in the game) and 38 off 24 balls in the final were all crucial in maintaining the momentum for the Sunrisers.
Yuvi's 'fight' puts him ahead of his competitors for this spot.

Mahendra Singh Dhoni, Rising Pune Supergiants, wicket-keeper
Inn: 12. Runs: 284. HS: 64 not out. Avg: 40.57. SR: 135.23. 50s: 1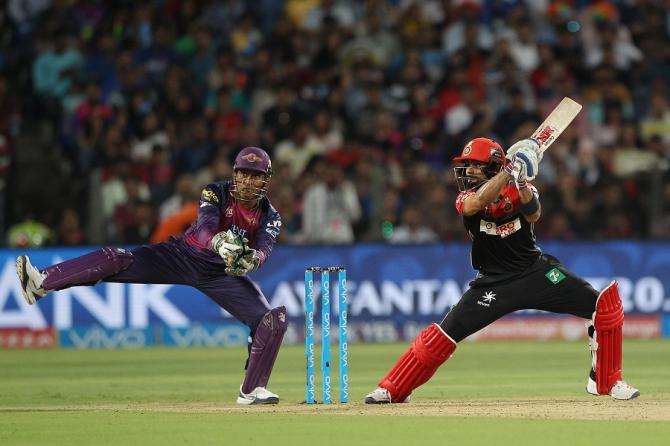 IMAGE: Mahendra Singh Dhoni, always agile, always thinking, fields with his foot.
MS had his worst IPL season, with his team exiting after a lowly 7th place finish in the league stage, but his wicket-keeping peg him above all the other 'keepers in IPL 9.
Remember the superb footballing skills he brought into play to save late dabs from Manan Vohra and later Kohli in the initial part of the tournament.
His superb reflexes against spinners Ravichandran Ashwin, Murugan Ashwin and Adam Zampa helped one understand the importance of a specialist 'keeper in the T20 format, especially in the subcontinent.
Enough said of his 'keeping. He showed his value as a finisher against the Kings XI Punjab in the last league game.
With 23 needed off the last over, MS hit the last delivery for a 6 to save Pune the humiliation of finishing last.


Shane Watson, Royal Challengers Bangalore
Innings: 16. Wickets: 20. Best Bowling: 4/29. Average: 24.25. Economy rate: 8.58
Runs: 179. Highest Score: 36. Strike Rate: 133.78
IMAGE: Virat Kohli and Shane Watson celebrate David Warner's wicket.
Moving to the all-rounders, Aussie warhorse Shane Watson lived up to his Rs 9.5 crore (Rs 95 million) price tag.
Watto may have failed with the bat, but his bowling put him third in the wickets column.
With Kohli struggling with a depleted RCB bowling line-up, the 37 year old stepped up, making full use of his experience.
His last over heroics with the ball to seal a one-run victory over the Kings XI in a do-or-die game and his 4/29 in the crucial Qualifier against the Gujarat Lions were the highlights of RCB's bowling.
Not to forget, his superb relay catch against KKR that had social media raving.
His presence renders much-needed balance to this side.

Krunal Pandya, Mumbai Indians
Inn: 9. Runs: 237. HS: 86. Ave: 39.50. SR: 191.12. 50s: 1
Wkts: 6. BB: 2/15. Eco: 7.57.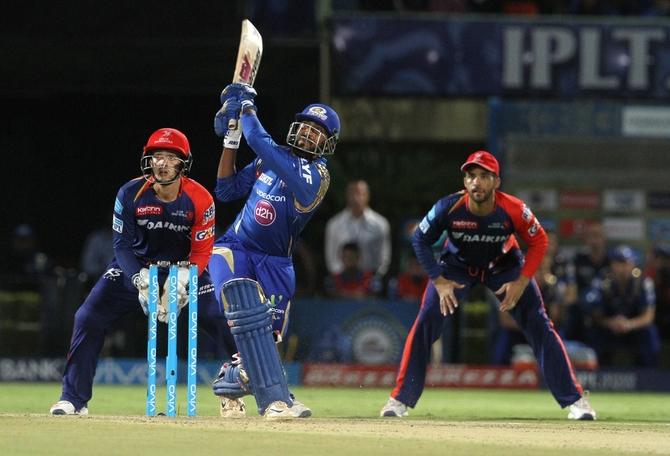 IMAGE: Krunal Pandya hits a six against the Delhi Daredevils.
A bolt from the blue!
Krunal Pandya was the highlight of an otherwise dismal season for defending IPL 8 champions Mumbai Indians.
Krunal announced his arrival by dismissing A B de Villiers and Virat Kohli in quick succession in a game against RCB, then showed his batting power by cracking a quick-fire 86 runs against the Delhi Daredevils.
Krunal's strike-rate (191.12) is the highest in IPL 9.
Andre Russell, Kolkata Knight Riders
Inn: 12. Wkts: 15. Eco: 7.97
Runs: 188. HS: 39 not out. Ave: 26.85. SR: 164.91.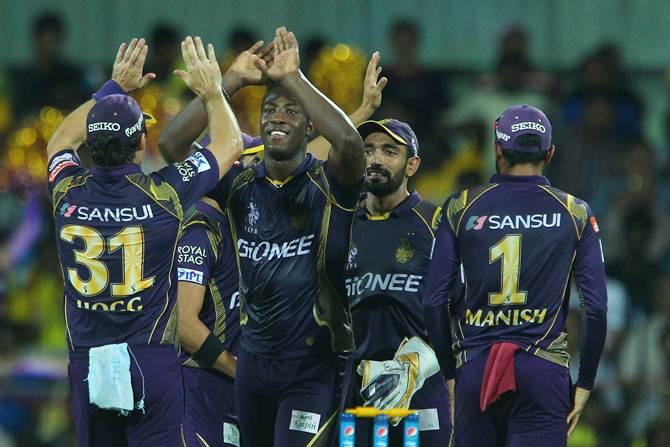 IMAGE: Andre Russell celebrates a wicket.
The man is tailor-made for T20s. He can open the bowling and clock 140-plus on the speed machine, and explode with the bat to finish the innings on a high.
Russell once again showed why he is revered by KKR fans.
With 188 runs and 15 wickets in the season, he was by far the best all-rounder in the tournament.
His four-for against the Kings XI Punjab gave KKR a crucial win and cemented their place in the play-offs.
Bhuvneshwar Kumar, Sunrisers Hyderabad
Innings: 17. Wkts: 23. BB: 4/29. Ave: 21.30. SR: 17.2. Econ 7.42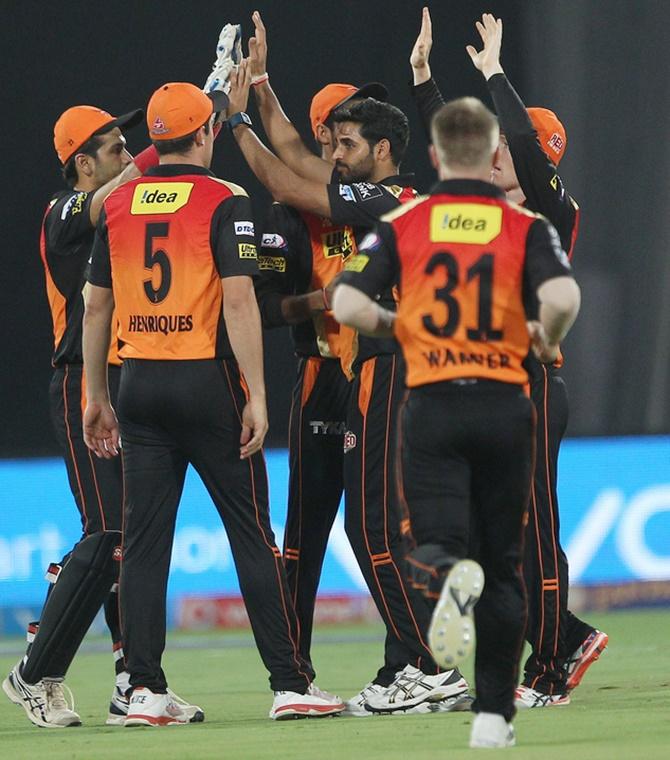 IMAGE: Bhuvneshwar Kumar's bowling in IPL 9 was stunning and made many ask why he didn't play a single game in the World T20.
Purple Cap holder Bhuvneshwar Kumar was the wrecker-in-chief for champions Sunrisers Hyderabad.
His accurate yorkers and deceptive slower deliveries kept batsmen guessing.
Bhuvneshwar bowled 147 dot balls during the tournament and ended with a very respectable economy rate of 7.42.
His bowling in the death overs, especially in the final, was one of the main reasons for SRH's victory.
Mustafizur Rahman, Sunrisers Hyderabad
Inn: 16. Wkts: 17. BB: 3/16. Ave: 24.76. SR: 21.5. Econ: 6.90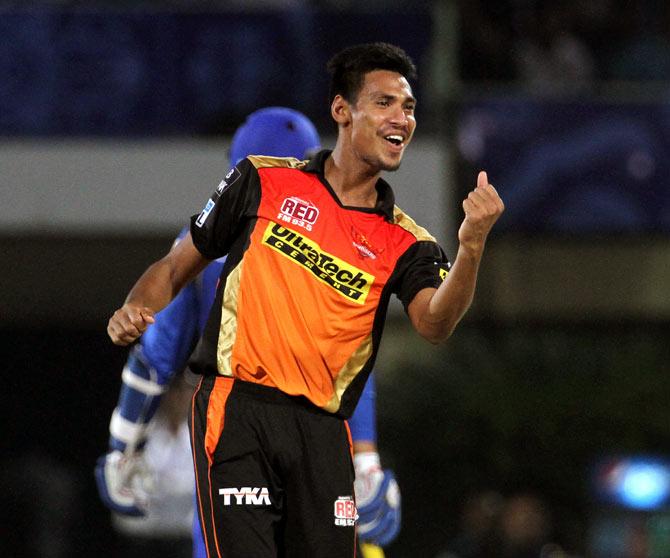 IMAGE: Mustafizur Rahman was the discovery of IPL 9.
Undoubtedly, the bowler of the tournament!
The left-arm Bangladesh pacer has all the tricks of his trade: Cutters, yorkers, slower balls and bouncers.
Almost every batsman failed to read his deceptive bowling.
Not surprising at all that the 20 year old was voted Emerging Player of the Tournament.
'Fizz', as he's called, conceded runs at an awe-inspiring economy rate of 6.90 -- the fact that he bowled most of his over at the death makes his feat remarkable.

Yuzvendra Chahal, Royal Challengers Bangalore
Inn: 13. Wkts: 21. BB: 4/25. Ave: 19.09. SR: 14. Econ: 8.15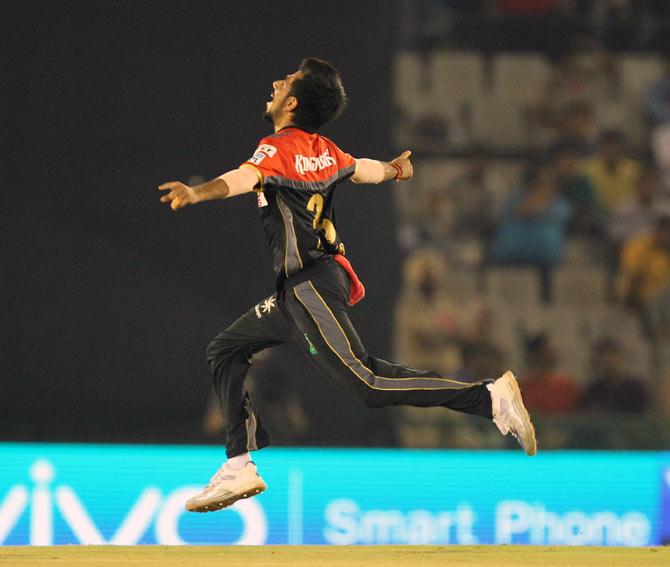 IMAGE: Yuzvendra Chahal's IPL 9 showing booked him a place on India's Zimbabwe tour.
The best spinner of the tournament.
The fact that Chahal got his wickets on the batting-heaven M Chinnaswamy Stadium pitch in Bengaluru makes his achievement even more special.
Sunil Gavaskar named him the 'emerging Indian player of IPL 9'.
Second in the wicket-takers' list, most of his victims were frontline batsmen. Brendon McCullum, Suresh Raina, Quinton de Kock, Yusuf Pathan all fell prey to the leg-spinner's flight and variations.