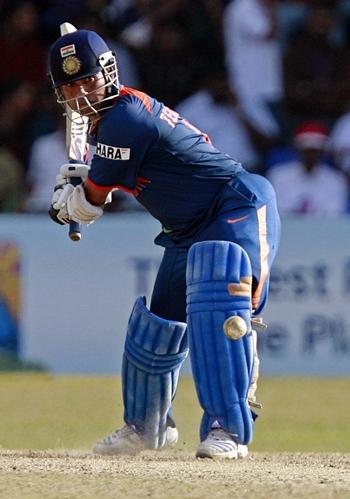 Sachin Tendulkar should cut down on his limited-overs appearances to prolong his Test career, feels former Australia captain Allan Border.
"I have high esteem for Tendulkar and his achievements in international cricket. But I think it would be better for him to appear in fewer limited-over matches, including one-dayers. It would help him to prolong his Test career," Border said in New Delhi.
Border, who made 11,174 runs for Australia from 156 Tests, feels Tendulkar's ability to handle pressure is the mantra behind his success in international cricket.
"Representing your country for 20 years in international arena is not a small achievement. There is always a lot of pressure on an international cricketer and I must say he (Tendulkar) has managed it beautifully," Border said.
"Like many others, his career was also disturbed by injuries. But even after many ups and downs, Tendulkar still has the same passion and love for the game," said Border, who is in the city as brand ambassador of the Airtel Delhi Half Marathon, to be held on Sunday.
"Tendulkar is a player who always looks for improvement. It would be very difficult for others to climb to his stature," the former left-handed batsman said. Border also expects a keen contest between India and Australia in the ongoing seven-match ODI series, but feels the hosts have the momentum after Wednesday's comprehensive win.
"After thrashing Australia in the second match, India certainly has gained the momentum. But both the teams are evenly powerful and I expect a close finish, probably a 4-3," the 54-year-old Aussie said.
"India would have a slight edge because they know the environment. And it is always difficult to deal with so many injuries while playing such a long series. It's very important to keep the key players fit," Border said.
Australia's injury woes deepened when wicketkeeper Tim Paine was ruled out for the rest of the series after he broke his finger during the second ODI in Nagpur.
"The team (Australia) is still going though a transition period after retirements of players like Shane Warne, Adam Gilchrist and Justin Langer. It is always difficult to fill the void," Border said.
He also lavished praise on India captain Dhoni for his leadership qualities.
"Dhoni is a aggressive captain and he has brought about that attitude in the squad. He is leading by example like what he did in the last match. He is also getting support from his team-mates," Border said.