Sachin Tendulkar feels that VVS Laxman's void in the Indian team will be difficult to fulfill and he will miss the Hyderabadi stylist who announced his retirement with immediate effect.
"When I walk out to play in Hyderabad, I will feel a deep void. A void that can never be fulfilled. My dear friend, VVS Laxman..." Tendulkar tweeted today.
Former India captain Dilip Vengsarkar said that Laxman is a cricketer who emerges once in a generation.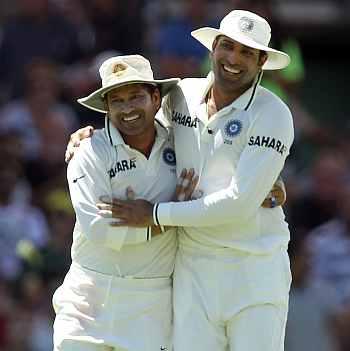 "Laxman has had an outstanding career. He is one of the few batsman who was a great chaser, an art only a few could master," Vengsarkar stated.
Sourav Ganguly, who has shared the Indian dressing room with Laxman for more than decade recollected the epic knock of 281 at the Eden Gardens.
"That was the brightest day in Laxman's career. That innings had a big impact on Indian cricket. It had given us a huge sense of relief and made us have belief in ourself that we're not behind... Since then, we never looked back as Indian cricket kept improving."
"He was terrific... a God's gifted player. When I first saw him, his style seemed to me like that of Mohammad Azharuddin but he went on to prove himself to be better."
Ganguly further said Laxman was very different in the dressing room, much unlike what he seemed while being on the field.