Paying glowing tributes to VVS Laxman, who quit international cricket on Saturday, selection committee chairman Krishnamachari Srikkanth said that the batsman should have got more recognition for his match-winning performances for the country.
Laxman decided to walk into the sunset with immediate effect despite being picked in the Indian squad for the two-match Test series against New Zealand starting at his hometown in Hyderabad on August 23 and Srikkanth said he respected his decision to retire.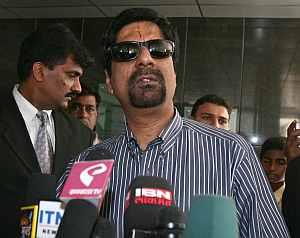 "Laxman is one of the greatest cricketers. He has won so many matches for India. He has won tremendous matches for India from no win situations. He should have got more recognition for his performances. More credit should go to him for his great performances," Srikkanth said.
"It is all in records as to how he had played in Sri Lanka, Australia and New Zealand. I respect his personal decision and wish him the very best," he added.
Srikkanth described Laxman as a "gentleman cricketer" and a "person of character".
"He is the best gentleman cricketer that I have seen. He is a thoroughbred gentleman and soft spoken person with great character. He is very well mannered," said the former Indian opener.