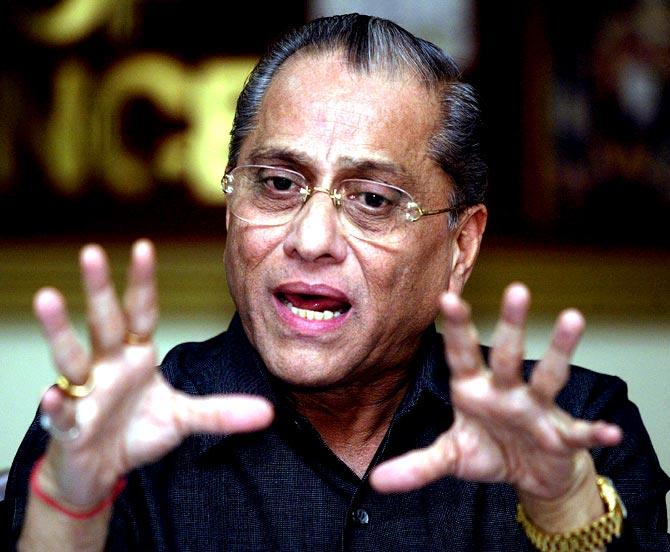 Jagmohan Dalmiya reacts. Photograph: Jayanta Shaw/Reuters
In what should be a shot in the arm for Narayanaswami Srinivasan, Cricket Association of Bengal president Jagmohan Dalmiya has extended East Zone's support to the embattled BCCI chief, who is seeking a third term, by signing the nomination papers for the December 17 elections.
Srinivasan is not a tainted person, says BCCI
"All six units of East Zone have signed the nomination papers extending support to Mr Srinivasan in different combinations," said a top BCCI official, who attended the Board's Working Committee meeting in Chennai on Tuesday.
End of road for Sharad Pawar
Sharad Pawar. Photograph: BCCI
Another BCCI official said there is little chance of Sharad Pawar becoming president.
"This, I think, it is the end of the road for Mr Pawar (in his attempt to return as president). I don't see anyone else becoming BCCI president at the AGM," the official, who did not wish to be identified, said.
Pawar had decided to attend the AGM after four years, when it was originally announced that it would be held on November 20 before it was put off to December, retaining Chennai as the venue.
A former president of the BCCI, Dalmiya had himself faced allegations of financial impropriety in the PILCOM accounts of the 1996 World Cup, jointly-hosted by India, Pakistan and Sri Lanka, before the matter was resolved.
He was earlier reported to be hesitant in offering support to ICC chairman Srinivasan, but now he seems to have agreed to support the Tamil Nadu strongman in his bid to become BCCI president for the next term.
With Srinivasan now having got the required unanimous support in writing from the East Zone, whose turn it is to decide the man at the helm, it appears to be a dead-end as far as any other presidential candidate is concerned.
The heat, it appears, is off Srinivasan, at least for now.