'Anil has been leading from the front right from the beginning and that should rub off on the team.'
Former India players discuss Anil Kumble's challenges as coach with Rediff.com's Bikash Mohapatra.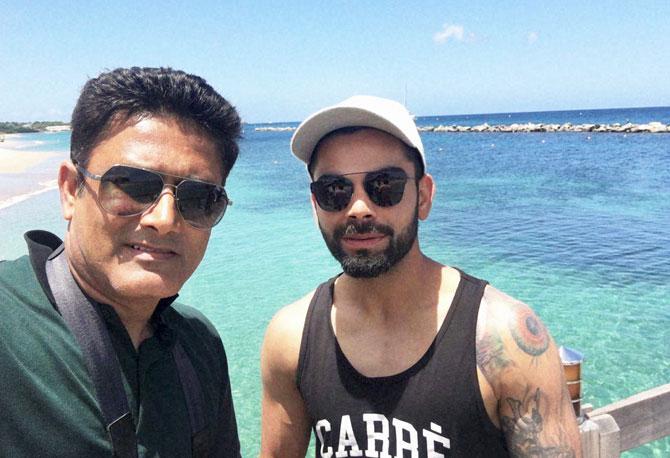 IMAGE: Coach Anil Kumble and Captain Virat Kohli. Photograph: PTI
India's four Test series against the West Indies isn't only Virat Kohli's first full-fledged tour outside the subcontinent as Test captain, but also Anil Kumble's first assignment as coach.
Kumble was appointed coach last month despite not having experience of the job. With the tour of the Caribbean coming up immediately, the former India captain may have had little time to interact with the players or explain his philosophy.
India players believe Kumble needs little time to adjust to his new responsibility.
"I am sure Anil (Kumble) has done his homework before he applied for the position," says former India left-arm spinner Maninder Singh.
"During this tour we will get to see how quick a learner he is," says Maninder, adding, "I am also waiting to see how this combination of Anil and Virat is going to work."
"One is a quiet aggressor and one is an open (aggressor)," Maninder says. "Anil has already taken the first step by saying that he won't curb Virat's natural aggression."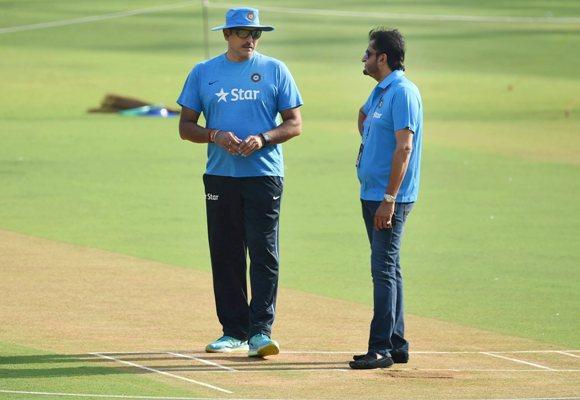 IMAGE: Former India team director Ravi Shastri, left, and Sandeep Patil, chairman of the national selectors, at the Wankhede Stadium, Mumbai. Photograph: PTI
Prior to Kumble's appointment, Ravi Shastri was in charge as the team director -- his tenure coming to an end following the World T20 championship. Shastri forged a good working relationship with the players and had decent results too.
Despite Shastri applying for the position, the BCCI's Cricket Advisory Committee -- Sachin Tendulkar, Sourav Ganguly and V V S Laxman -- assigned to pick the new coach, preferred Kumble.
"Ravi did a great job. I don't know the thinking in not giving him a longer run," says former Test opener Anshuman Gaekwad.
"As regards this (Kumble's) appointment, it represents a sort of positive thinking with the team management," Gaekwad, twice a national coach, says, adding, "Nobody would take a chance if there were problems with the would-be coach and the players. Even a hint of resentment from the players would have scuppered the discussions."
"Anil (Kumble) has been leading from the front right from the beginning. He has a lot of experience and that should rub off on the team in a positive way," Gaekwad feels.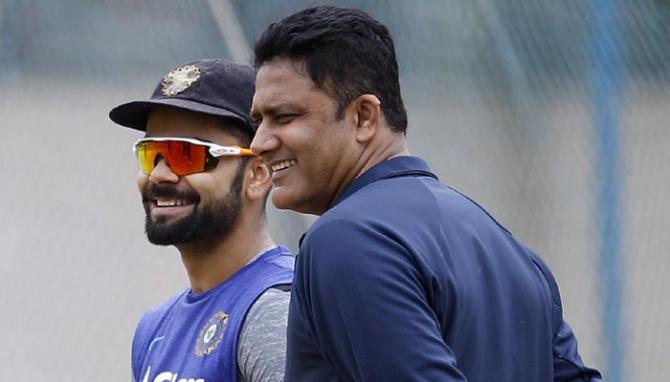 IMAGE: Kohli and Kumble. Photograph: BCCI
"Anil's job is made easier because most of this team is young and inexperienced," explains Maninder.
"It would not have been easy had the team had too many experienced players. The job of the coach is to keep motivating members of the team who can't motivate themselves," he says.
"To handle these experienced members, along with the not-so-experienced ones would have required additional effort," adds Maninder. "Now all he needs to do is bring in all his experience and keep the team motivated."