It's a batting track but suitable for wrist spinners, says curator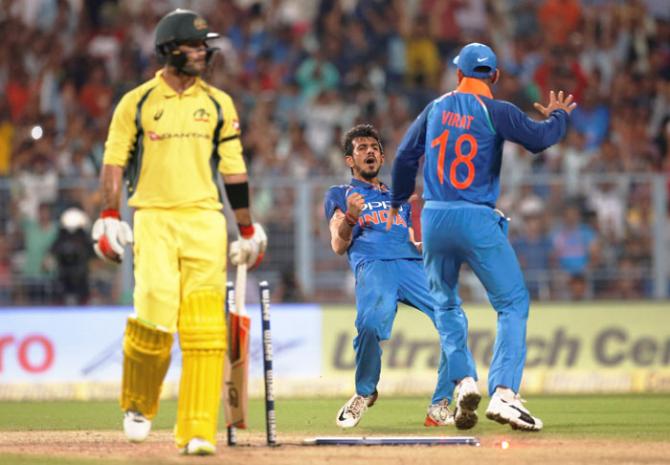 IMAGE: India's Yuzvendra Chahal (centre) celebrates with captain Virat Kohli (right) after dismissing Australia's Glenn Maxwell during the second ODI at the Eden Gardens in Kolkata on Thursday. Photograph: Adnan Abidi/Reuters
India's newest spin twins Kuldeep Yadav and Yuzvendra Chahal could be the only bowlers making an impact on a Holkar Stadium track that promises to be a belter, according to its curator, Samandar Singh Chauhan.
The Madhya Pradesh CA curator said the pitch won't crumble, so only wrist spinners will be able to make impact, while a bigger total can be expected after the 281 and 252 scored by the home team in Chennai and Kolkata respectively.
"We have used black cotton soil, brought from different parts of Madhya Pradesh. In this weather it won't crumble and it won't be very dry. It has capacity to hold water but it will be good for the wrist spinners," Chauhan said.
The Australian batsmen have struggled against wrist spinners Yadav and Chahal in the first two matches, the former becoming only the third Indian take a hat-trick in ODIs on Thursday.
Wrist spinners are not dependant on the pitch for a good performance, like off-spinners, but if they get bounce they become more lethal.
"We had used this pitch for a two-day match between the players of our Ranji team. Ninety overs were bowled on both days on September 7 & 8 and good runs were scored. It should be a high scoring game," Chauhan added.
The Holkar stadium is a happy hunting ground for Indian batsmen. Virender Sehwag struck his career-best ODI score of 219 against the West Indies in December 2011.
India captain Virat Kohli hit a double hundred (211) against New Zealand in the first innings of the third Test at the venue last year and Ajinkya Rahane scored 188 in the same innings.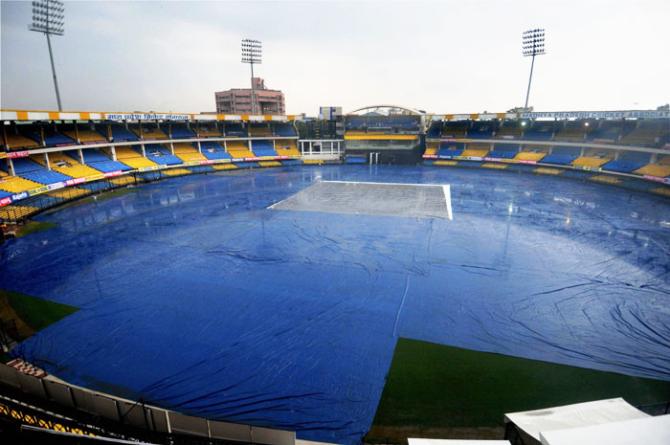 IMAGE: With rain lashing the city of Indore, the ground at the Holkar cricket stadium was covered on Thursday. Photograph: PTI
Before the start of the series, it was said that a 300-plus score would be the norm but the first two matches have not seen that happening.
The city of Indore has also experienced rain over the last few days. The ground was kept under covers after a heavy downpour from midnight last till Friday afternoon, and the weather forecast warns of sporadic showers during the next two days.
However, a proper drainage system in place means that a ground staff of 80 personnel can get the field ready for play in an hour even after a strong spell of rain.
"We are equipped with three super-soppers, 12 sump wells -- each having 60-feet deep boring -- and 48 100-feet borewells to make the ground ready," Chauhan, who has been associated with MPCA for the last 22 years, said.
The first match in Chennai was a truncated affair and in Kolkata as well rain interrupted play for a brief period.
MPCA officials indicated that if the sun comes out on Sunday, batting first will be right choice for whichever skipper wins the toss.