'It has long been an ambition of mine to play county cricket and I am thankful to Alec Stewart and Surrey for allowing me the opportunity to join them during their 2018 season.'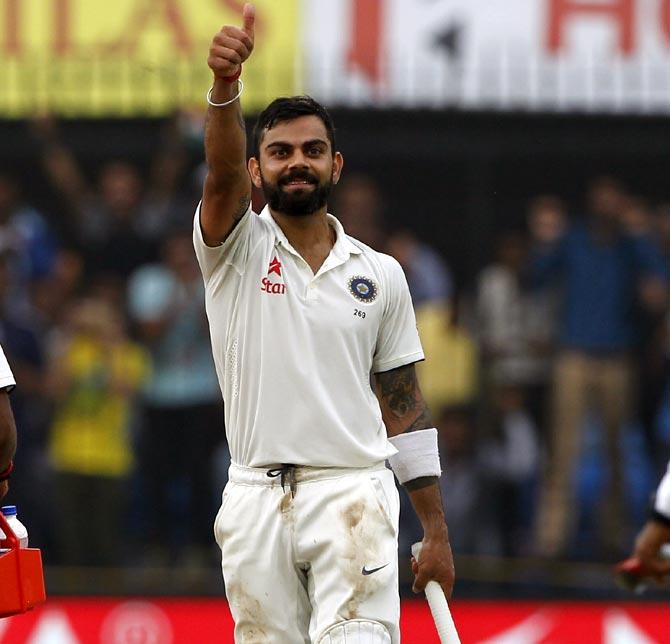 India captain Virat Kohli on Thursday officially inked his deal with top English county side Surrey in his bid to prepare for the tour of England, starting in July.

While Kohli joining the London-based team was an open secret, the county announced the deal on their website.
"Surrey County Cricket Club are delighted to announce the signing of India captain Virat Kohli for the month of June," the club announced on their website.

Speaking after signing for the club, Kohli said: "It has long been an ambition of mine to play county cricket and I am thankful to Alec Stewart and Surrey for allowing me the opportunity to join them during their 2018 season. I can't wait to get to the Kia Oval."

Alec Stewart, Surrey's Director of Cricket, added: "We are thrilled to have signed the biggest name in world cricket for the month of June.

"Playing and training alongside Virat will be a massive benefit for our players who will have the opportunity to learn so much from him.

"At a time when there is much discussion around the future of county cricket, the arrival of Virat should give our domestic game a massive boost and positive exposure around the cricketing world which in turn can benefit every county," the former England captain said.

With Kohli playing three county championship matches in June, he is all set to miss the historic first-ever Test match against Afghanistan scheduled in Bengaluru from June 14-18. The Committee of Administrators chief Vinod Rai has already said that Kohli will be encouraged to play county in his bid to prepare for the Test series in August.

Kohli had an indifferent tour of England last time and this time want to make amends. Runs in England will affirm his status as the modern day great, having scored runs in all Test playing nations. He already has multiple Test hundreds in Australia, South Africa along with three figure scores in New Zealand, West Indies.

According to Surrey website: "Kohli will be available for all cricket throughout the month until the close of Surrey's trip to Scarborough to face Yorkshire."

Kohli will make his County debut against Hampshire at the Rose Bowl in Southampton from June 9 to 12. If the match ends on June 12, Kohli can only reach Bengaluru on next day June 13, a day before the Test match starts.

On paper, it will mean nine days of continuous cricket with a day spent in travelling between continents. The second match will be against Somerset from June 20-23 at Guildford. The final game will be against Yorkshire fromJune 25-28 at Scarborough, where Cheteshwar Pujara will be on the opposite side.

The 29-year-old will become the fourth Test eligible Indian player in county cricket this year with fellow batsman Cheteshwar Pujara currently at Yorkshire and seamers Ishant Sharma and Varun Aaron plying their trade at Sussex and Leicestershire respectively. Axar Patel is supposed to play for Durham in August.

Since his Test debut in 2011, the middle-order batsman has scored 5554 runs at an average of 53.40 in the five-day game while his 9588 ODI runs have come at a rate of 58.10 per innings

Kohli, who won the prestigious Sir Garfield Sobers Trophy for ICC World Cricketer of the Year in 2017, averages more than 50 in all three formats of the international game.

After taking over the Test captaincy during India's tour of Australia in 2014/15, Kohli has led his country to the top of the ICC rankings with 21 Test wins from 34 matches.

In 2017, Kohli was also named as the Wisden Leading Cricketer in the World and as captain of the ICC Test and ODI Teams of the Year.