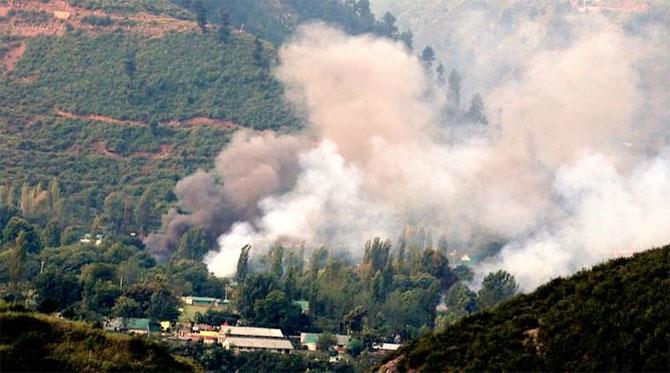 IMAGE: Smoke rises from the Uri Brigade camp during the terror attack. Photograph: Virat Kohli/Twitter
The terror attack on the army base in Uri, in Kashmir, on Sunday, has left the entire country in such utter despair that it prompted Indian cricket captain Virat Kohli and former India opener Virat Kohli to pour out their hearts through social media.
- 17 soldiers killed in Uri attack, PM Modi assures 'punishment'
In one of the most horrendous terror attacks on the army in recent years, 17 jawans were martyred by Pakistan-based Jaish-e-Mohammed after they stormed an army base in Uri in Kashmir, on Sunday.
Reacting to the images and the deaths of the army personnel, Kohli tweeted: "This picture fills me with emotions I can't explain. To all the brave hearts, Jai Hind #UriAttack #Kashmir."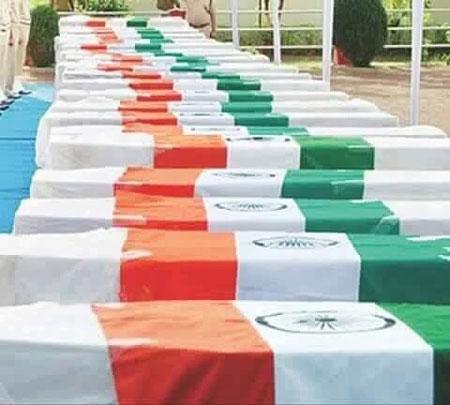 Paying tribute to the lives of the martyred, Sehwag tweeted the post along with a heart-wrenching picture of coffins wrapped in the Indian flag.
"17 lives. They had a family, they had a son, they had a daughter. They were serving our motherland. Pains to see this," the former cricketer wrote on the micro-blogging site.
Image (bottom, left): The coffins of the martyred jawans
Photograph: Virender Sehwag/Twitter