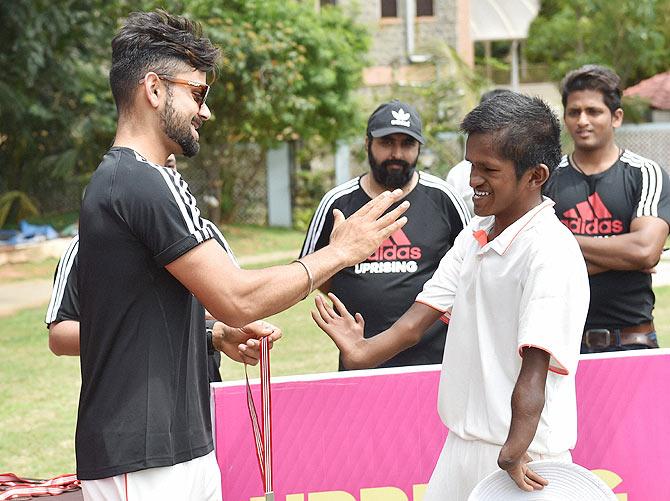 IMAGE: Cricketer Virat Kohli meets a physically disabled young cricketer during an event at RSI ground in Bengaluru on Saturday. Photograph: Shailendra Bhojak/PTI
India Test captain Virat Kohli said it's a "surreal feeling" as he looks back at his sensational journey in international cricket, which started with the ICC Under-19 World Cup triumph, way back in 2008 in Malaysia.
"If you honestly ask me, I have never thought of these. Sometimes I sit in my room all by myself and just think everything that happened in the past seven years, it feels surreal," Kohli said.
"The people that I have been able to play with, the moments I have been able to share with the team and now getting the Test captaincy, something that I never imagined.
"This is a lesson for me. If you work hard, if you are grateful for what you have in life, God will bless you with more," he told NDTV on Saturday.
Asked whether he is nervous about leading the Test side in the upcoming series against South Africa, Kohli said: "Not at all. It's not different from anything that I did in the past. We will prepare the same way and approach the series in the same kind of mindset."
Kohli also refused to pinpoint any particular player from the South African team that the hosts are giving special emphasis on.
"Everyone is a strong player and you can't really point anyone out. The whole team has to be respected in the same way," the Indian Test skipper said.