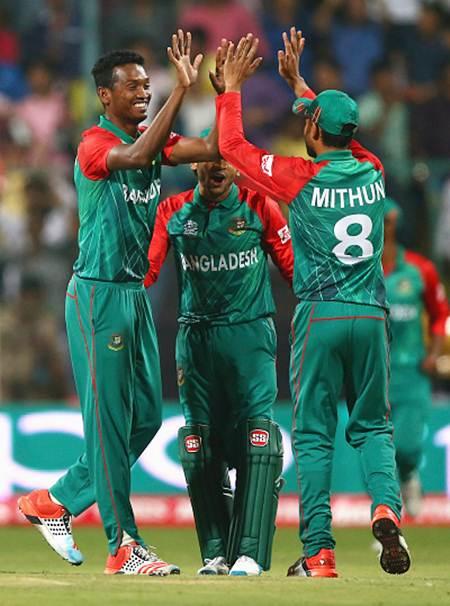 Bangladesh all-rounder Shakib Al-Hasan picked Virat Kohli as India's key player, but insisted that his team cannot take the other batsmen lightly when the teams meet in the ICC World T20 match in Bengaluru on Wednesday.
Even though the likes of Rohit Sharma, Shikhar Dhawan and Suresh Raina haven't got runs in the tournament, Shakib was wary of India's batting.
"Obviously he (Kohli) is the key player for India. They (Rohit, Dhawan, Raina) are all match-winners and, yes, they have not been among runs, but we have to be on the watch-out because India has the world's best batting line-up. So we need to be careful and we need to be very disciplined with our bowling and fielding to restrict them," said Shakib, on the eve of match.
He added that the toss could play a crucial role.
"It is important for both the teams. Toss might play a crucial part, but it is more important how we play in the middle. We have to be careful because India is playing for the trophy. We need to be very disciplined in batting and bowling. We need to play our best tomorrow."
Asked how the team is coping without Arafat Sunny and Taskin Ahmed, who both were suspended by the ICC for bowling with an illegal action, Shakib replied: "Obviously, it is disappointing to lose two crucial players at a crucial situation, but we cannot help because there is nothing in our hands. We have to move forward and need to focus on tomorrow's game. That's all.
"The team still has the ability to do well in tomorrow's match.
"Obviously (it has affected us) as he was bowling well for us for the last six months. Yes, he was important part of the team, but it is not that everything is over for him."
Shakib said it is up to the captain and coach to send Mahmudullah up the order though it all depends on match situation.
"It is totally up to captain and coach. He batted No. 5 for some time. It all depends on situation and match condition," he said.
Image: Bangladesh's Al-Amin Hossain celebrates after taking the wicket of Usman Khawaja during the ICC World Twenty20 Super 10s Group 2 match against Australia at the M. Chinnaswamy Stadium.
Photograph: Ryan Pierse/Getty Images