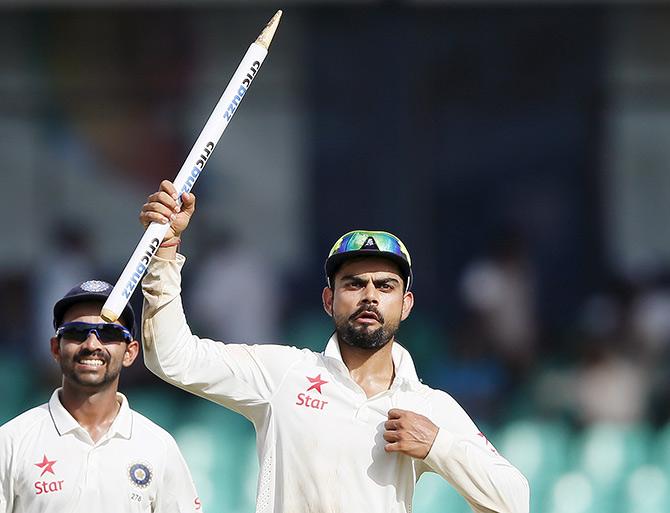 India's captain Virat Kohli (right) shows a stump as he celebrates with his teammate Ajinkya Rahane after they won their final Test against Sri Lanka in Colombo. Photograph: Dinuka Liyanawatte/Reuters
Lauding Virat Kohli for leading India to a historic series win against Sri Lanka legend Sunil Gavaskar has said that the young captain has shown early signs of great leadership with his "pro-active" approach.
India humbled Sri Lanka by 117 runs at SSC to register a series-clinching win against the hosts, their first series victory in the island nation since 1993. It was also Kohli's first win as Test captain and Gavaskar was pleased with the way he handled the team.
"He is very pro-active Test skipper, that's so important. He is looking to make things happen and sometimes they won't happen because that's the nature of the game. But you can see that in the way he makes his bowling changes, you can see that in the way he makes his field placing, he is looking to make
things happen, there is not a moment where he is letting the game stagnate and drift," Gavaskar told NDTV.
"So that is the important thing. He is looking to make things happen, to upset the opposition and get him the advantage and that is a huge plus. Clearly when playing against stronger teams it may not come easy and the test will come then, but the early signs are very very encouraging," he
added.
'An angry fast bowler is absolutely necessary'
India's Ishant Sharma (right) celebrates after taking a wicket. Photograph: Michael Steele/Getty Images
Meanwhile Ishant Sharma (5-54 and 3-32 in the first and second innings respectively), who joined Kapil Dev, Zaheer Khan and Anil Kumble in the 200-wicket club of India, was criticised for his unnecessary on-field aggression for which he may be suspended for a match or two by the ICC. Gavaskar
agreed that a team needs an angry fast bowler but not an ugly situation.
"I agree with that, an angry fast bowler is absolutely necessary because he will come in and bowl flat out fast and do everything. It's just that once you have achieved your aim of dismissing the batsman then that anger has to be contained. And the anger has to give way to joy, give way to delight that
you have got the batsman out," the former skipper opined.
"Not that the anger should boil over and create an ugly situation. If that balance can be maintained, nothing wrong at all at having an angry fast bowler, because an angry fast bowler is really really going to rip. And that's what you want, that's what a fast bowler is supposed to do," he said.
'Pujara obviously is the man, because he has got a hundred'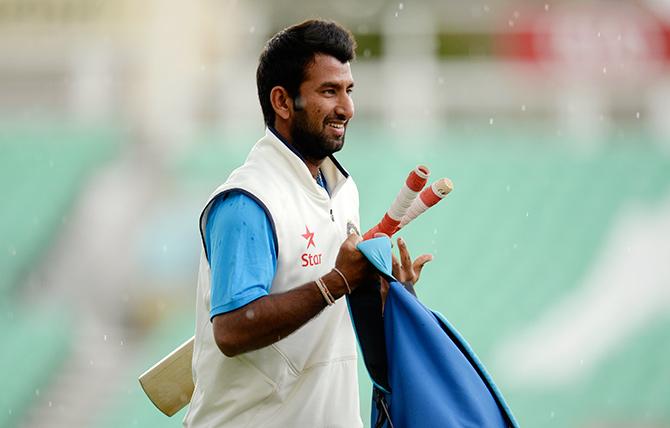 India's Cheteshwar Pujara leaves the field. Photograph: Philip Brown/Reuters
Man-of-the-Match Cheteshwar Pujara was lauded for his brilliant 145 not out in the first innings and Gavaskar insisted that the Saurashtra batsman has won the race, at least for now, to cement a place in the Indian line-up ahead of Rohit Sharma and Lokesh Rahul.
"I think (Cheteshwar) Pujara definitely with the hundred he got in trying circumstances made a very very big claim to keep his place in the team when the first Test against South Africa begins. But clearly there is a long way to go, there is a one-day series before that so the selection committee will
have a look at the form, the pitch and then look at the balance of the team," said the legendary opener.
"But in my book, Pujara obviously is the man, because he has got a hundred. Test batsmen in my view are supposed to get a hundred. And that's what he has done. You can keep getting 50s and 60s but a hundred is what would be your aim as a Test batsman. The cheapest price on a batsman should be a hundred," he added.