'First match win will give us momentum.'
'Rahane was superb; he took on the fast bowlers.'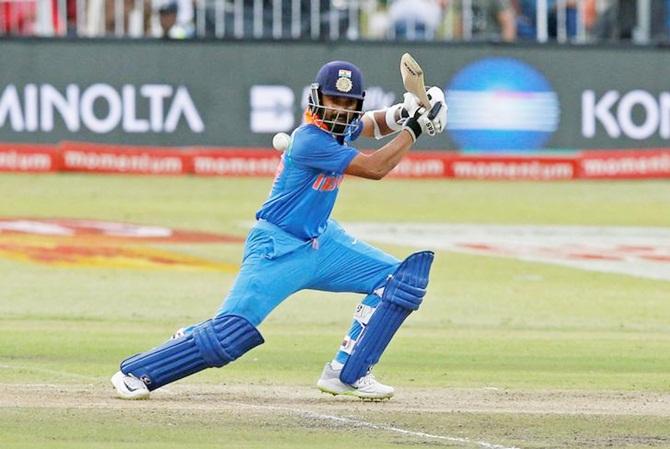 IMAGE: India batsman Ajinkya Rahane plays a shot during the first ODI against South Africa in Durban on Thursday. Photograph: Rogan Ward/Reuters
India captain Virat Kohli says the six-wicket victory in the first One-Day International against South Africa will give his side the momentum in the remainder of the six-match series.
"First match of the series is important. We wanted to take the momentum of the (third) Test win into this and when we restricted South Africa to 270 on this sort of a pitch we were happy," Kohli, who hit 112 of 119 balls for his first ODI hundred in South Africa, said after Thursday's match in Durban.
Asked about his first hundred on South African soil, he replied: "Yeah, it was quite special."
He said he was very happy for Ajinkya Rahane, who scored 79 of 86 balls batting at number four and shared with him 189 runs for the third wicket.
"Jinx (Rahane) is a top class player. We understood fast bowling was going to be a big factor on this tour. He was superb; he took on the fast bowlers," said Kohli, who was adjudged man of the match.
IMAGE: India spinner Kuldeep Yadav, Mahendra Singh Dhoni and Ajinkya Rahane celebrate the dismissal of South Africa's J P Duminy. Photograph: Rogan Ward/Reuters
On the performance of his bowlers, Kohli said, "Bhuvi (Bhuvneshwar Kumar) and (Jasprit) Bumrah… we bank on them. Picking up one or two wickets in the top ten is what we wanted to do.
"And, then, the two wrist-spinners (Kuldeep Yadav and Yuzvendra Chahal)... outstanding bowling by both of them. They are working wonderfully for the team. They're playing in South Africa for the first time. They were very brave, they were throwing it up and that's why they got wickets.
"As a captain, it's outstanding when you have two guys who know what they want to do."
South Africa captain Faf du Plessis said he was disappointed by his side's batting show.
"Definitely, we did not score enough; we did not bat well enough. I reckon we were about 50-60-70 runs short. Chris had a good partnership, but as a batting unit we were disappointed.
"When you're chasing five runs an over here, it's pretty easy. We tried everything with field placements and tactics but Virat and Rahane played very well."
Asked if he suffered any injury while fielding, du Plessis said, "Just a few battle scars. Just went upstairs to get the fingers checked. One-day cricket the intensity is a lot higher. Happy to go through the game. Feeling strong."