'Everything is the same; that I have been made the captain is the only change, but my mindset hasn't changed at all'
'Now knowing that I am willing to take up more responsibility, he (Dhoni) can be more expressive'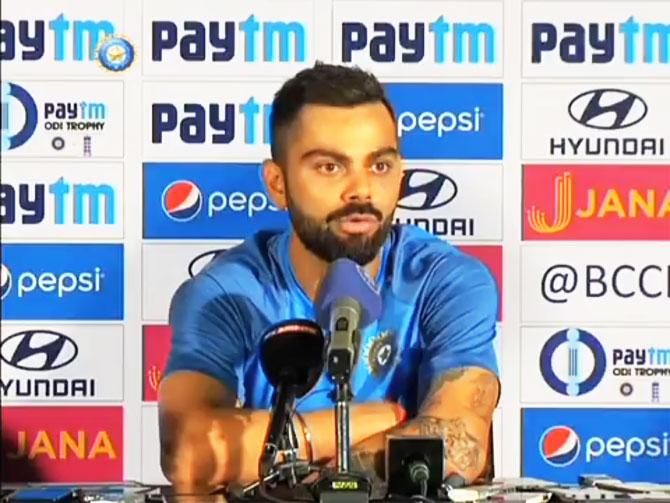 IMAGE: Virat Kohli at the pre-match press conference in Pune on Saturday. Photograph: BCCI/Twitter
Virat Kohli feels that the transition of captaincy will be a smooth one as he will now be in charge of taking a final call even as Mahendra Singh Dhoni's "priceless suggestions" are always welcome.
"It's the same thing. It's just that I am in charge of decisions now and he (Dhoni) will be giving his views, which was the case before as well. I think we both understand as professional cricketers and it'll be pretty smooth (transition)," Kohli said at the pre-match conference in Pune on Saturday.
"When Dhoni was in charge, I have always shared my point of view and thoughts with him. Eventually he has made those decisions. Sometimes it may immediately click and he makes those changes right away. Sometimes he still takes time to follow his instinct more and keep that as option B. As cricketers, we understand it is a pretty natural thing to have different perspectives about the game, about captaincy as well."
But Kohli mentioned that Dhoni's views are priceless to him.
"His views will be priceless for me, as well. But I will have my preparation first and keeping his views in mind, maybe I will follow my instinct for a bit more (time) and then maybe switch to a different plan B from a different point of view."
Kohli said as of now he was not feeling any burden of captaining the side in all three formats.
"I haven't felt burden at all. I was actually pretty delighted to be given the captaincy for all the three formats. It adds to the responsibility and makes you a better player, a better person; that's something I have always liked -- that aspect of captaincy. I personally feel until you try something, you can never know what's the max limit.
"I have felt in the past people have already created limitations in their own head in terms of what they can do and what they cannot even before even trying. If the burden is too much, I don't know. Maybe in future, I will be able to assess that much more, but as of now I am pretty ready to be taking over the captaincy in all three formats. I feel pretty honoured, and I don't feel any stress."
Having already led the Test team for two years, Kohli doesn't feel any different.
"Honestly, I don't feel any different. The only thing is I am excited about is that when I will walk out for the toss tomorrow, I will be India's full-time captain. Apart from that, I don't think anything has changed mentally or in terms of environment. Everything is the same; that I have been made the captain is the only change, but my mindset hasn't changed at all," said Kohli.
"Just like every batsman devises his own technique to get success, it's the same for the captains, their own unique way of thinking.
"Everyone has their own ways of expressing themselves as captain or operating things on the field, but one thing that remains constant is to win cricket games. People have different techniques but they are still able to score runs. Doesn't mean necessarily everyone has to bat like one person. Me and MS have always understood our kind of operation out there in the middle. It doesn't make anything difficult as far as I am concerned."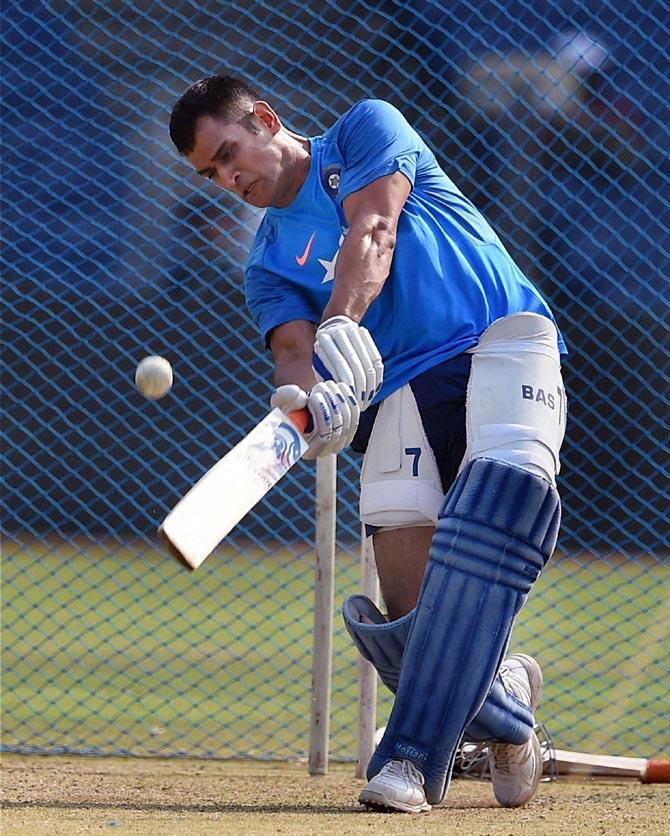 IMAGE: Mahendra Singh Dhoni in action during the nets session on Saturday. Photograph: PTI
Asked what lessons he would like to carry forward from the Dhoni era as captain, Kohli replied: "I have already learnt a lot. Many people have different styles of captaincy and I think he has been so successful because he has been able to find the right balance in being offensive with his plans as well as understanding the game when it is dominated by the opposition on how to slow things down. I think that's his biggest strength and would like to strike a good balance going forward."
"It happens it Test cricket, but in the shorter format you have to make it happen even quicker because the game can drift away quickly. You need to have more composure, you need to be more aware," he added.
Now that the burden of captaincy is not there, Kohli saw Dhoni play the sort of freedom with which he used to bat when he came into the Indian team in 2004.
"With the burden of captaincy not being there anymore, I am sure he will be able to express himself as a batsman, experiment a bit with his offensive game that he displayed when he came in. It's not that he didn't afterwards. (But) He was calculative with it, understanding the team situation.
"Now knowing that I am willing to take up more responsibility, he can be more expressive. But I'm not saying that he will go out there and slog every ball. He is a smart cricketer and we have all seen that."
"And with Yuvi coming in as well in the middle overs, both of them, give and take, that's why they are so successful in the middle overs batting together. They feed of each others momentum and one can play the aggressive role and one can keep knocking it around in singles."
According to Kohli, the series was significant in terms of preparing for the Champions Trophy, beginning in June.
"We are taking these three games as knockout games in our own heads because we need to prepare for Champions Trophy and we need to be in the right kind of frame because the tournament is like that - it is very competitive and very quick. So we need to be at our best from game one of the series.
"So, we are not taking these games as trial games. So these three games become all the more crucial. We are not going to be experimenting much with any things. We are going to find the right combinations from game one and then stick to it till the Champions Trophy."