'The first innings is going to be very important to follow into the Test match'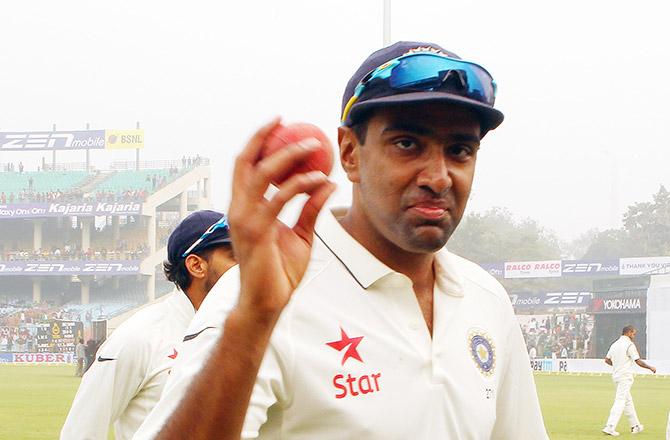 IMAGE: Ravichandran Ashwin. Photograph: BCCI .
India's star spinner Ravichandran Ashwin has said that his team will look to come hard at the West Indies batsmen in the first innings and knock them over early during the four-Test series starting at Antigua on July 21.
"From the way the opposition played in the last match, it gave me the picture that they are pretty much used to the conditions. For example they opened with Rajendra Chandrika, the way he batted it gave me a glimpse at how they might be going about it," Ashwin told bcci.tv.
"Over the last year or two they have played really well in the first innings, so that is going to be a challenge for us to try and really come hard at them in the first innings and knock them over early and be as disciplined as possible. The first innings is going to be very important to follow into the Test match."
The off-spinner, who was rested during the first warm-up game against WICB Presidents XI, said that the slowish tracks in the Caribbean will be a big challenge for the spinners and he is ready to bowl "boring lines all day" during the series.
"It is going to be challenging because of the kind of heat and wicket that are there. It would be important how quickly we adapt to the conditions. Watching the last game, I felt that the wickets were pretty slow. It was a bit of a challenge. I am sure I will have to be prepared for a long haul and be as boring as possible, chugging away all day long, we will have to wait for that one breakthrough," he said.
Talking about the West Indies batting line-up, Ashwin said: "It looks like a pretty good line up. They have gone for lot of allround players who can bat and ball. It will be interesting to see what sort of strategy they adopt for the Test series. We have a good bowling attack and it is just about one breakthrough. I am sure we can do that."
Ashwin said patience will be the key for the spinners during the Test series.
"It is getting slower but it won't be easy by any stretch of imagination, so we are prepared for long haul and if the wicket are tailor-made for us and it starts spinning we come into our own. Until then it is all about patience," he said.
"Other day we saw Mishy (Amit Mishra) bowling 15-16 overs and once he got a breakthrough he started breaking throughs at regular intervals. For the first couple of days in a Test match there won't be much for the spinners, there could be bounce which we can exploit. So it will be boring lines which needs to be bowled."
Ashwin, who has scored two hundreds and 6 fifties in 32 Tests, said he has really worked hard on his batting along with India's batting coach Sanjay Bangar.
"I have worked very hard on my batting. I have set some goals with the coaching staff, not just in terms of numbers but how correct I can be, how solid I can become as a batter. That is a process, the first phase is not to give my wicket away and then I can obviously accelerate as I have got the shots. Sanjay bhai has worked day in and day out with me and at last he seems to be happy with how I am shaping up."
The 29-year-old said the three-day warm-up game will give him a clearer idea about how to go about things during the Test series.
"We haven't played Test for a long time, I know what are the boxes which needs to be ticked, in terms of going for longer spells, and try and build that boring lines for a longer period. So this match will give me a clearer idea and going into Antingua I can be in a better position."