'He is fit at any stage, he comes back into the team and we are going to start with him, be it pulling him out of a first-class game in between.'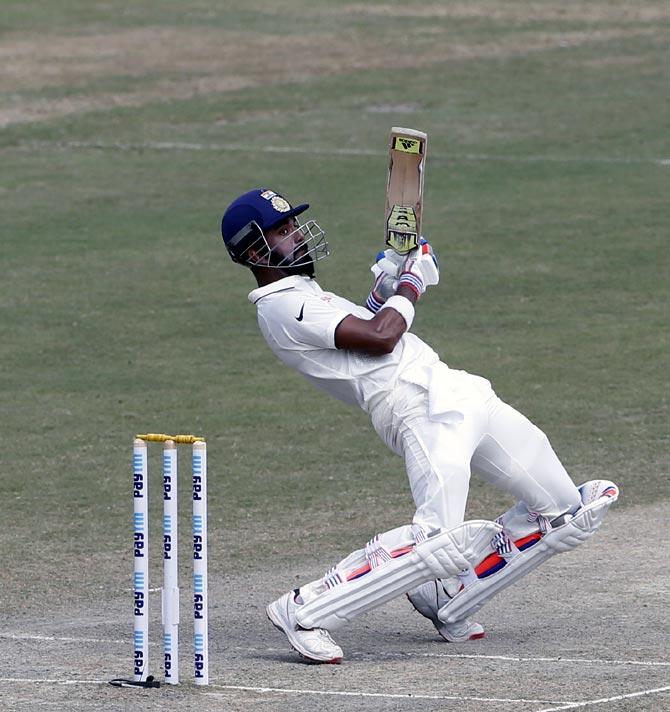 IMAGE: KL Rahul in action. Photograph: BCCI
India Test captain Virat Kohli on Wednesday declared fit-again K L Rahul as the team's No.1 choice opener, ruling out veteran Gautam Gambhir's chances of playing in the second Test against England, starting in Visakhapatnam, from Thursday.

After the drawn first Test where Indian batting came under scrutiny in the second innings, Karnataka right-hander Rahul was pulled out of an ongoing Ranji Trophy match against Rajasthan to be brought into the Indian team, where he scored a century and a fifty.

With Rahul becoming an automatic choice, it seems to be curtains for senior pro Gambhir, who made a Test comeback after more than two years.

"We had it pretty clear in our heads that KL (Rahul) is our number one choice along with Murali Vijay. He is fit at any stage, he comes back into the team and we are going to start with him, be it pulling him out of a first-class game in between. It's within the rules and the regulations," Kohli said on the eve of the second Test.

"We were waiting for him to recover as soon as possible. That's how the team combinations go, you go with what you think is the best for the team. Don't think we needed to think any differently to call back Rahul. We are glad that he's back in the side again. That was the whole idea behind it."

In Rahul's absence, Gambhir played two Tests with scores of 29 and 50 against New Zealand and 20 and 0 against England and Kohli said Gambhir "played really well in different situations".

Less than a month ago, New Zealand were skittled for 79 in 23.1 overs at this venue in an ODI and Kohli said he would have no qualms exploiting home conditions which seem spin-conducive.

"Generally in Vizag, pitch has always been something that helps the spinners. So I expect the pitch to play similarly, in the one-dayer here (against New Zealand), the spinners got a few wickets. But at the same time, the quick bowlers also had some assistance early on.

"It's a wicket where spinners will find it really nice to bowl on and expect the same going into the game. As I mentioned in Rajkot as well, I was surprised to see that much grass on the wicket. I hope it's not the case this time around in Vizag because we want to focus on our strengths and play the cricket that we have as a team at home and put the pressure on the opposition."

Kohli said they are not concerned about skill or the conditions but it's their sloppy fielding which separated both the teams.

"We caught up really well in last 14-15 months. In Test cricket, if you don't take your chances, the game is very difficult to pull back. That was the main difference rather than skills or pitch. If you take your chances, you have a team down 100 for 5 compared to 250 for 3."