Andre Russell of Kolkata Knight Riders has blasted his way to the top Rediff.com's Most Valuable Players ratings for the IPL with David Warner close on his heels. Srinivas Bhogle and Purnendu Maji present the updated MVP rankings!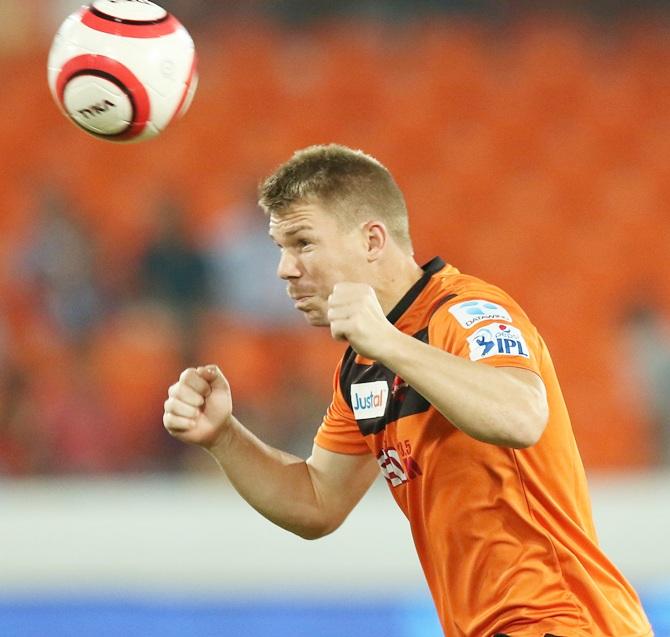 IPL 8 is past the half-way mark, and Andre Russell of Kolkata Knight Riders (KKR) is emerging as the player offering the best performance at the lowest cost.
MVPI collapses a player's batting + bowling + fielding performance into a single 'run equivalent'.
Russell's MVPI of 588 indicates that he has contributed the most 'runs' so far in IPL.
The captains of Sunrisers Hyderabad (SRH) and Delhi Daredevils (DD) are just a little behind; David Warner has contributed 521 'runs' while Jean-Paul Duminy has contributed 500 'runs', with Dwayne Bravo in between at 505 'runs'.
The analysis gets much more interesting when we bring in the player's price; i.e., ask how much does the player earn for every 'run' that he contributes. By this measure – that we call the paisa vasool index (PVI) – Andre Russell's value grows manifold. Bought at a value of about $100,000, every 'run' that Russell contributes costs KKR only $146, or Rs 8746. In contrast, the more expensive David Warner has to be paid $1382 for every 'run' scored!
The table below lists the details of the top 100 players ranked in terms of their MVPI. It is interesting to look at their PVI as well. A highly paid player like Rohit Sharma – although playing well – costs Mumbai Indians (MI) $4072, or about Rs 2.44 lakhs for every run scored. And if you consider Yuvraj Singh, DD is paying him a staggering Rs 6.78 lakhs for every 'run' scored.
Is it therefore any surprise that everyone wants to play the IPL?
Table: Most valuable players so far in PL 8 (as on midnight of May 10, 2015):
| | | | | | | | | | | | | | |
| --- | --- | --- | --- | --- | --- | --- | --- | --- | --- | --- | --- | --- | --- |
| No | Player | Team | From | Runs | 6s | Strike Rate | W | Eco | M | MVPI | Money Offered (US $) | PVI(US$) | PVI(INR) |
| 1 | Andre Russell | KKR | WI | 287 | 17 | 197.9 | 11 | 7.8 | 11 | 588 | 100000 | 146 | 8746 |
| 2 | David Warner | SH | AUS | 423 | 15 | 156.7 | 0 | - | 11 | 521 | 916667 | 1382 | 82945 |
| 3 | Dwayne Bravo | CSK | WI | 143 | 2 | 130.0 | 17 | 7.5 | 11 | 505 | 666667 | 1037 | 62235 |
| 4 | Jean-Paul Duminy | DD | SA | 341 | 17 | 128.7 | 8 | 7.4 | 12 | 500 | 366667 | 629 | 37714 |
| 5 | Ajinkya Rahane | RR | IND | 438 | 11 | 130.7 | 0 | - | 11 | 458 | 1250000 | 2339 | 140362 |
| 6 | Brendon McCullum | CSK | NZ | 338 | 19 | 176.0 | 0 | - | 11 | 425 | 541667 | 1001 | 60084 |
| 7 | Chris Gayle | RCB | WI | 357 | 29 | 160.1 | 0 | - | 8 | 417 | 1583333 | 2712 | 162727 |
| 8 | Robin Uthappa | KKR | IND | 325 | 6 | 130.5 | 0 | - | 11 | 405 | 833333 | 1764 | 105820 |
| 9 | Rohit Sharma | MI | IND | 361 | 16 | 140.5 | 0 | - | 11 | 402 | 2083333 | 4072 | 244314 |
| 10 | AB de Villiers | RCB | SA | 303 | 14 | 165.6 | 0 | - | 10 | 398 | 1250000 | 2243 | 134602 |
| 11 | Kieron Pollard | MI | WI | 260 | 17 | 163.5 | 1 | 11.7 | 11 | 355 | 1250000 | 2767 | 165996 |
| 12 | Virat Kohli | RCB | IND | 335 | 14 | 120.1 | 0 | 5.5 | 10 | 352 | 2083333 | 4228 | 253653 |
| 13 | Axar Patel | KXI | IND | 139 | 6 | 116.8 | 11 | 8.4 | 11 | 346 | 125000 | 284 | 17031 |
| 14 | Shreyas Iyer | DD | IND | 349 | 19 | 126.9 | 0 | - | 12 | 341 | 433333 | 1089 | 65354 |
| 15 | Bhuvneshwar Kumar | SH | IND | 17 | 1 | 212.5 | 17 | 7.4 | 11 | 340 | 708333 | 1637 | 98214 |
| 16 | Harbhajan Singh | MI | IND | 102 | 8 | 159.4 | 12 | 7.7 | 10 | 334 | 916667 | 2156 | 129384 |
| 17 | Dwayne Smith | CSK | WI | 301 | 14 | 127.0 | 0 | - | 11 | 334 | 750000 | 1764 | 105860 |
| 18 | MS Dhoni | CSK | IND | 263 | 12 | 122.3 | 0 | - | 11 | 319 | 2083333 | 5131 | 307882 |
| 19 | Ashish Nehra | CSK | IND | 1 | 0 | 16.7 | 17 | 7.1 | 11 | 317 | 333333 | 826 | 49572 |
| 20 | Nathan Coulter-Nile | DD | AUS | 20 | 1 | 111.1 | 15 | 7.6 | 11 | 316 | 708333 | 1921 | 115280 |
| 21 | Mitchell Starc | RCB | AUS | 10 | 0 | 76.9 | 15 | 5.5 | 7 | 314 | 833333 | 1896 | 113740 |
| 22 | Shikhar Dhawan | SH | IND | 320 | 6 | 123.6 | 0 | - | 11 | 310 | 2083333 | 5280 | 316820 |
| 23 | Steven Smith | RR | Aus | 263 | 3 | 137.7 | 0 | - | 11 | 307 | 666667 | 1861 | 111680 |
| 24 | Moises Henriques | SH | AUS | 191 | 9 | 130.8 | 6 | 7.2 | 6 | 302 | 166667 | 434 | 26017 |
| 25 | Suresh Raina | CSK | IND | 266 | 13 | 123.1 | 1 | 5.9 | 11 | 300 | 1583333 | 4147 | 248810 |
| 26 | David Wiese | RCB | SA | 106 | 3 | 143.2 | 10 | 7.9 | 8 | 295 | 466667 | 1130 | 67797 |
| 27 | Angelo Mathews | DD | SL | 143 | 6 | 141.6 | 7 | 8.2 | 10 | 277 | 1250000 | 3868 | 232078 |
| 28 | Parthiv Patel | MI | IND | 213 | 4 | 136.5 | 0 | - | 9 | 275 | 233333 | 667 | 40000 |
| 29 | Ambati Rayudu | MI | IND | 219 | 11 | 142.2 | 0 | - | 10 | 268 | 666667 | 1955 | 117271 |
| 30 | Gautam Gambhir | KKR | IND | 288 | 4 | 117.1 | 0 | - | 11 | 266 | 2083333 | 6713 | 402793 |
| 31 | Yusuf Pathan | KKR | IND | 216 | 9 | 135.8 | 2 | 9.7 | 11 | 266 | 541667 | 1745 | 104726 |
| 32 | Lasith Malinga | MI | SL | 6 | 0 | 60.0 | 15 | 8 | 10 | 259 | 1583333 | 4803 | 288196 |
| 33 | Piyush Chawla | KKR | IND | 53 | 2 | 135.9 | 11 | 7.5 | 11 | 256 | 708333 | 2372 | 142299 |
| 34 | Karn Sharma | SH | IND | 78 | 5 | 136.8 | 9 | 7.6 | 11 | 256 | 625000 | 1918 | 115095 |
| 35 | Lendl Simmons | MI | WI | 277 | 7 | 119.4 | 0 | - | 8 | 255 | 50000 | 154 | 9244 |
| 36 | Sanju Samson | RR | IND | 165 | 6 | 127.9 | 0 | - | 11 | 254 | 666667 | 2250 | 134983 |
| 37 | Kedar Jadhav | DD | IND | 188 | 7 | 136.2 | 0 | - | 12 | 245 | 333333 | 1166 | 69971 |
| 38 | George Bailey | KXI | AUS | 228 | 7 | 139.9 | 0 | - | 10 | 244 | 541667 | 1744 | 104655 |
| 39 | David Miller | KXI | SA | 243 | 10 | 119.7 | 0 | - | 10 | 240 | 2083333 | 6820 | 409226 |
| 40 | Ravi Bopara | SH | ENG | 145 | 6 | 120.8 | 6 | 8 | 9 | 236 | 166667 | 555 | 33293 |
| 41 | Shane Watson | RR | AUS | 205 | 9 | 125.8 | 4 | 9.5 | 7 | 234 | 2083333 | 7631 | 457875 |
| 42 | Wriddhiman Saha | KXI | IND | 198 | 8 | 121.5 | 0 | - | 11 | 234 | 366667 | 1231 | 73871 |
| 43 | Sandeep Sharma | KXI | IND | 9 | 0 | 64.3 | 11 | 6.9 | 11 | 233 | 141667 | 478 | 28663 |
| 44 | Imran Tahir | DD | SA | 5 | 0 | 83.3 | 15 | 8.8 | 10 | 227 | 33333 | 126 | 7552 |
| 45 | Faf du Plessis | CSK | SA | 200 | 3 | 128.2 | 0 | - | 11 | 227 | 750000 | 2596 | 155758 |
| 46 | Manish Pandey | KKR | IND | 203 | 7 | 125.3 | 0 | - | 11 | 221 | 283333 | 1099 | 65934 |
| 47 | Yuzvendra Chahal | RCB | IND | 1 | 0 | 100.0 | 13 | 8.3 | 9 | 215 | 16667 | 55 | 3322 |
| 48 | James Faulkner | RR | AUS | 118 | 5 | 137.2 | 7 | 9.1 | 10 | 208 | 1583333 | 6525 | 391484 |
| 49 | Ravichandran Ashwin | CSK | IND | 26 | 0 | 173.3 | 8 | 6.1 | 8 | 207 | 916667 | 3479 | 208765 |
| 50 | Mayank Agarwal | DD | IND | 213 | 7 | 120.3 | 0 | - | 10 | 205 | 266667 | 1115 | 66899 |
| 51 | Yuvraj Singh | DD | IND | 205 | 8 | 117.1 | 1 | 8.2 | 12 | 202 | 2666667 | 11315 | 678925 |
| 52 | Anureet Singh | KXI | IND | 18 | 1 | 58.1 | 13 | 8.8 | 11 | 199 | 33333 | 132 | 7897 |
| 53 | Murali Vijay | KXI | IND | 227 | 7 | 108.1 | 0 | 7 | 10 | 198 | 500000 | 1984 | 119048 |
| 54 | Ravindra Jadeja | CSK | IND | 99 | 2 | 95.2 | 5 | 8.1 | 11 | 191 | 1250000 | 5142 | 308527 |
| 55 | Deepak Hooda | RR | IND | 125 | 11 | 186.6 | 1 | 8.5 | 11 | 182 | 66667 | 314 | 18838 |
| 56 | Suryakumar Yadav | KKR | IND | 146 | 8 | 136.4 | 0 | - | 11 | 179 | 116667 | 559 | 33520 |
| 57 | Harshal Patel | RCB | IND | 17 | 2 | 170.0 | 8 | 7.2 | 9 | 178 | 66667 | 268 | 16051 |
| 58 | Chris Morris | RR | SA | 56 | 4 | 200.0 | 5 | 7.6 | 8 | 178 | 233333 | 1124 | 67416 |
| 59 | Brad Hogg | KKR | AUS | 7 | 0 | 116.7 | 9 | 6.9 | 6 | 174 | 83333 | 411 | 24631 |
| 60 | Dinesh Karthik | RCB | IND | 101 | 3 | 123.2 | 0 | - | 10 | 173 | 1750000 | 7225 | 433526 |
| 61 | Morne Morkel | KKR | SA | 0 | 0 | - | 9 | 7.1 | 5 | 171 | 466667 | 2339 | 140351 |
| 62 | Trent Boult | SH | NZ | 0 | 0 | - | 8 | 8 | 6 | 171 | 633333 | 2910 | 174603 |
| 63 | Pawan Negi | CSK | IND | 91 | 4 | 189.6 | 2 | 8 | 4 | 168 | 16667 | 78 | 4677 |
| 64 | Amit Mishra | DD | IND | 8 | 0 | 66.7 | 9 | 7.7 | 12 | 165 | 583333 | 3030 | 181818 |
| 65 | Jagadeesha Suchith | MI | IND | 43 | 2 | 159.3 | 6 | 8.5 | 8 | 159 | 16667 | 82 | 4942 |
| 66 | Dhawal Kulkarni | RR | IND | 1 | 0 | 50.0 | 9 | 7.9 | 9 | 156 | 183333 | 1007 | 60440 |
| 67 | Mitchell McClenaghan | MI | NZ | 1 | 0 | 50.0 | 10 | 8.1 | 7 | 155 | 50000 | 253 | 15207 |
| 68 | Naman Ojha | SH | IND | 135 | 4 | 115.4 | 0 | - | 11 | 155 | 83333 | 422 | 25346 |
| 69 | Karun Nair | RR | IND | 143 | 5 | 130.0 | 0 | - | 11 | 154 | 125000 | 696 | 41744 |
| 70 | Ishwar Pandey | CSK | IND | 0 | 0 | - | 8 | 7.3 | 8 | 151 | 250000 | 1301 | 78051 |
| 71 | Eoin Morgan | SH | ENG | 150 | 8 | 122.0 | 0 | - | 6 | 151 | 250000 | 1301 | 78051 |
| 72 | Stuart Binny | RR | IND | 74 | 1 | 113.8 | 4 | 7.6 | 11 | 147 | 916667 | 5345 | 320700 |
| 73 | Glenn Maxwell | KXI | AUS | 118 | 7 | 143.9 | 1 | 10.2 | 8 | 140 | 1000000 | 5612 | 336735 |
| 74 | Umesh Yadav | KKR | IND | 0 | 0 | 0.0 | 9 | 8.8 | 10 | 139 | 433333 | 2672 | 160329 |
| 75 | Ashish Reddy | SH | IND | 56 | 4 | 180.6 | 3 | 8.3 | 5 | 138 | 33333 | 190 | 11387 |
| 76 | Sunil Narine | KKR | WI | 0 | 0 | 0.0 | 6 | 7 | 7 | 128 | 1583333 | 10603 | 636161 |
| 77 | Saurabh Tiwary | DD | IND | 96 | 4 | 139.1 | 0 | - | 5 | 125 | 116667 | 800 | 48000 |
| 78 | Pravin Tambe | RR | IND | 2 | 0 | 50.0 | 7 | 7.8 | 9 | 122 | 16667 | 117 | 7026 |
| 79 | Corey Anderson | MI | NZ | 114 | 6 | 117.5 | 1 | 8.3 | 4 | 119 | 750000 | 4952 | 297119 |
| 80 | Mandeep Singh | RCB | IND | 78 | 5 | 195.0 | 0 | - | 8 | 118 | 133333 | 807 | 48426 |
| 81 | Tim Southee | RR | NZ | 13 | 0 | 144.4 | 6 | 8.8 | 7 | 115 | 200000 | 1491 | 89441 |
| 82 | Mitchell Johnson | KXI | AUS | 31 | 1 | 86.1 | 9 | 9.4 | 9 | 109 | 1083333 | 7809 | 468545 |
| 83 | Mohit Sharma | CSK | IND | 4 | 0 | 50.0 | 8 | 8.7 | 11 | 109 | 333333 | 2403 | 144168 |
| 84 | Unmukt Chand | MI | IND | 102 | 2 | 122.9 | 0 | - | 6 | 108 | 108333 | 788 | 47288 |
| 85 | Ryan ten Doeschate | KKR | NETH | 61 | 3 | 135.6 | 0 | 4 | 6 | 95 | 166667 | 1504 | 90226 |
| 86 | Lokesh Rahul | SH | IND | 100 | 4 | 108.7 | 0 | - | 6 | 93 | 166667 | 1408 | 84485 |
| 87 | Sarfaraz Khan | RCB | IND | 75 | 2 | 174.4 | 0 | - | 7 | 93 | 83333 | 640 | 38402 |
| 88 | Zaheer Khan | DD | IND | 0 | 0 | - | 5 | 7.4 | 5 | 93 | 666667 | 6144 | 368664 |
| 89 | Iqbal Abdulla | RCB | IND | 20 | 0 | 111.1 | 4 | 7.9 | 5 | 87 | 108333 | 889 | 53366 |
| 90 | Virender Sehwag | KXI | IND | 99 | 3 | 117.9 | 0 | - | 8 | 86 | 533333 | 4873 | 292359 |
| 91 | Albie Morkel | DD | SA | 78 | 1 | 136.8 | 1 | 9.8 | 3 | 85 | 50000 | 504 | 30252 |
| 92 | Hardik Pandya | MI | IND | 42 | 5 | 182.6 | 1 | 8.5 | 4 | 85 | 16667 | 154 | 9244 |
| 93 | Shaun Marsh | KXI | AUS | 81 | 3 | 139.7 | 0 | - | 4 | 85 | 366667 | 3389 | 203361 |
| 94 | Johan Botha | KKR | SA | 31 | 1 | 206.7 | 1 | 8.1 | 4 | 77 | 166667 | 1855 | 111317 |
| 95 | Domnic Muthuswami | DD | IND | 1 | 0 | 33.3 | 4 | 7.2 | 6 | 73 | 125000 | 1468 | 88063 |
| 96 | Praveen Kumar | SH | IND | 13 | 0 | 68.4 | 6 | 9.3 | 10 | 70 | 366667 | 4116 | 246939 |
| 97 | Sreenath Aravind | RCB | IND | 0 | 0 | - | 4 | 6.8 | 1 | 69 | 50000 | 518 | 31056 |
| 98 | Vinay Kumar | MI | IND | 0 | 0 | 0.0 | 3 | 8.4 | 9 | 68 | 466667 | 5392 | 323529 |
| 99 | Quinton de Kock | DD | SA | 50 | 1 | 161.3 | 0 | - | 1 | 59 | 583333 | 8475 | 508475 |
| 100 | Manoj Tiwary | DD | IND | 57 | 1 | 101.8 | 0 | - | 5 | 49 | 466667 | 8163 | 489796 |