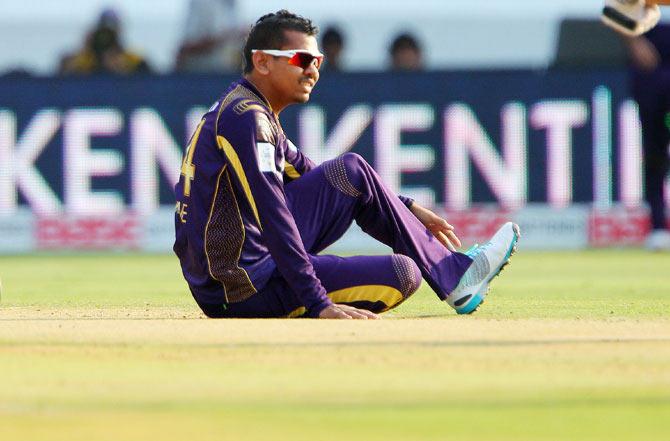 Sunil Narine of the Kolkata Knight Riders. Photograph: BCCI
The Indian Premier League (IPL) season 8 is only nine days away and a fresh controversy has started brewing.
Defending champions Kolkata Knight Riders (KKR) have threatened to not play the IPL this year because the team's star spinner, West Indies' Sunil Narine may not be allowed to play in India's premier T20 tournament.
Narine was banned for suspect action during the 2014 Champions League Twenty20 and was not allowed to play in the final against the Chennai Super Kings, which KKR lost by eight wickets.
He was subsequently ignored for the West Indies tour to India in November and he opted out of the 2015 ICC Cricket World Cup.
However, he gave himself a chance to get back into the game by modifying his action. He was cleared by the ICC during his biomechanical test in Loughborough.
However, in Narine's case, the ICC did not organise the test as he was not 'called' during an international match. He was 'called' during the Champions League Twenty20, a tournament that is run by the BCCI.
According to BCCI rules, since he was 'called' for a second time, he was banned from bowling in any BCCI-organised tournament.
The BCCI has refused to accept the report submitted by the ICC and has insisted the off-spinner undergoes another round of testing at the Sri Ramachandra University in Chennai.
However, according to sources, KKR is contemplating legal action against the BCCI and reportedly, if Narine is not allowed to play in the IPL, KKR might pull out of the tournament.