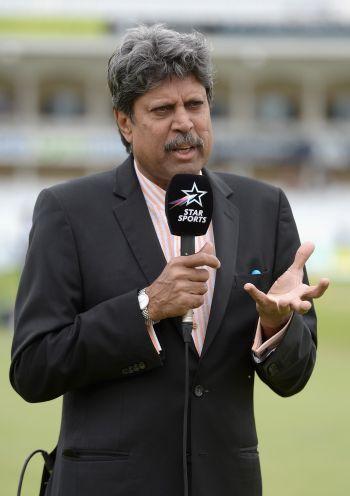 Cricket legend Kapil Dev refused to comment on Sachin Tendulkar's claim that despite being one of the finest Indian all-rounders of all time, the former skipper was disappointing as a coach and said it was the legendary batsman's "personal opinion".
"That's his opinion. Everyone has a right to give his opinion and I respect everybody's opinion. Good luck to him for his endeavour," Kapil replied, when asked about Tendulkar's remark in his book about his style of coaching.
Tendulkar in his just-released autobiography Playing It My Way, has claimed that he was left disappointed by Kapil during 1999-00 tour of Australia since the coach never involved himself in strategic discussions.
Kapil also refrained from making any predictions on India's chances of defending the title in the next year's ICC World Cup in Australia and New Zealand.
"Let's not jump into any conclusions. I want to wish all the luck to my countrymen, who are playing. I hope they go and play good cricket but I don't wish to make a judgement. Winning and losing is a separate thing. If they play good cricket that would be good enough," said the 1983 World Cup-winning team.
Image: Kapil Dev
Photograph: Gareth Copley/Getty Images