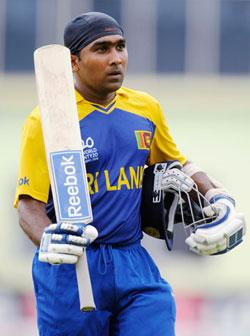 Former Sri Lanka captain Mahela Jayawardene has joined the Adelaide Strikers for the fifth edition of Big Bash League on a one-year deal as the side's second international signing.
Jayawardene replaces Kieron Pollard after the West Indies international was last month ruled out of the competition, when he suffered a knee injury in South Africa's Ram Slam T20 Challenge.
Featuring in more than 600 international matches for Sri Lanka, Jayawardene is widely regarded as one of cricket's modern greats and brings a wealth of experience to the Strikers' line-up.
Head coach Jason Gillespie told Cricket Australia, "Jayawardene would not only have a huge impact on the field, but would also act as a mentor to the younger players in the team.
"Mahela is a champion of the game and is without a doubt one of the greatest batsman to play cricket in the modern era," Gillespie said.
"Having played against him myself, I'm fully aware of the type of damage he can do, so it'll be exciting to have him on our side this time."
Jayawardene retired from International cricket this year at the conclusion of the ICC Cricket World Cup, but has continued his career in various domestic competitions, most recently guiding the Central Stags to victory over the Northern Knights with a knock of 97 off just 59 balls in New Zealand's T20 domestic tournament.
"Losing Pollard was disappointing because he definitely provided our team with extra spark, but Mahela has been in really good form in New Zealand and we're confident we've found a very capable replacement," added Gillespie.
Jayawardene awarded lifetime membership of MCC
Jayawardene was also awarded Honorary Life Membership of the Marylebone Cricket Club (MCC), becoming the 14th Sri Lankan to receive the honour.
He appears on the famous Lord's Honours Boards twice, having scored 107 and 119 against England in 2002 and 2006 respectively.
"It is an honour to be awarded Honorary Life Membership of MCC," Jayawardene said. "It is a great Club and I'm privileged to now be a part of it.
"I've always enjoyed playing at Lord's, and the MCC Members have always given me a great reception, so to be given this accolade is extra special."