It was a moment of joy and pride for Kalim Jaffer. On the one hand, Jaffer Academy, the cricket club he runs, had won a match at the Indian Airlines cricket ground in Mumbai, while on the other, his brother Wasim had patiently worked his way to a hundred on the last day of the first Test against England in Nagpur.
Rediff.com was with him as Wasim crafted a delivery from England spinner Ian Blackwell for a single to reach the milestone.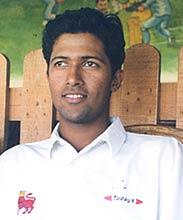 "Wasim's 16 years of hard work has finally paid off and I am really glad and ecstatic that he reached his first century," said an ecstatic Kalim, adding "it is a proud moment for his family".
Coming from a humble background, it's been a long, hard journey for Wasim. A big-time gully cricket player, he took to serious cricket at the age of 11 after joining Bandra Urdu High School.  His father, A K Jaffer, a former BEST (the public bus service in Mumbai) employee, wanted one of his sons to don the India cap; it was his dream, but Kalim, the oldest of three sons, could not make it happen. Family problems forced him to give up his cricket career. But he took it upon him to transform Wasim into a good cricketer.
"Extensive training and hours of net practice helped Wasim develop his shots and footwork," says Kalim.
He still remembers a day when Wasim's school played Shardashram, which had little master Sachin Tendulkar in its ranks. Though Wasim's team lost the match, Kalim says, "Wasim managed to create an impression" with an impressive knock of 58 runs.
"So impressed was Shardashram coach Ramakant Achrekar that he wanted Wasim to join his school team," added Kalim. "However, Wasim missed out on the opportunity since he was from an Urdu medium school and Shardashram was not."
But Wasim was not disappointed. He was determined to fulfill his father's dream. Wherever and whenever he played, he did not let his team down. He made his presence felt in Mumbai cricketing circles with a stylish triple century in only his second first class game. After being dropped from the India squad, following a forgettable debut against South Africa in 2000, he persisted and continued to pile runs in first-class cricket.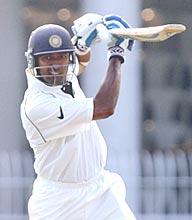 Talking about Wasim's batting technique, Kalim, who has been his trainer ever since he took to the sport, said, "Wasim has no technical flaws as such. He has immense concentration. He, like most batsmen, is tentative to begin with. But once he has seen off the shine of the ball, he starts playing his strokes. He has all the strokes in his kitty. He uses his feet well and knows how to respect good balls.
"The only flaw he has is his body language. His lanky appearance often gives the impression that he is lazy. This is more visible during his fielding. He needs to work upon it."
Wasim, informs Kalim, idolises former West Indies captain Vivian Richards and Indian legend Sunil Gavaskar.
"He looks up to Richards and Gavaskar for developing skills in concentration and stroke-play."
Has Wasim set any targets for the year ahead?
"It all depends on whether he gets opportunities regularly. He has been in and out of the team, so it carries immense pressure on him when he goes out on the field. Probably, that is one reason why he has not been able to cash in on the opportunities.
"Let him play some more matches and he can be a great asset for the Indian team that has been searching for a genuine opener since 14 years now."
Having returned with a bang, Wasim must now grab the chance to cement his slot in the side.