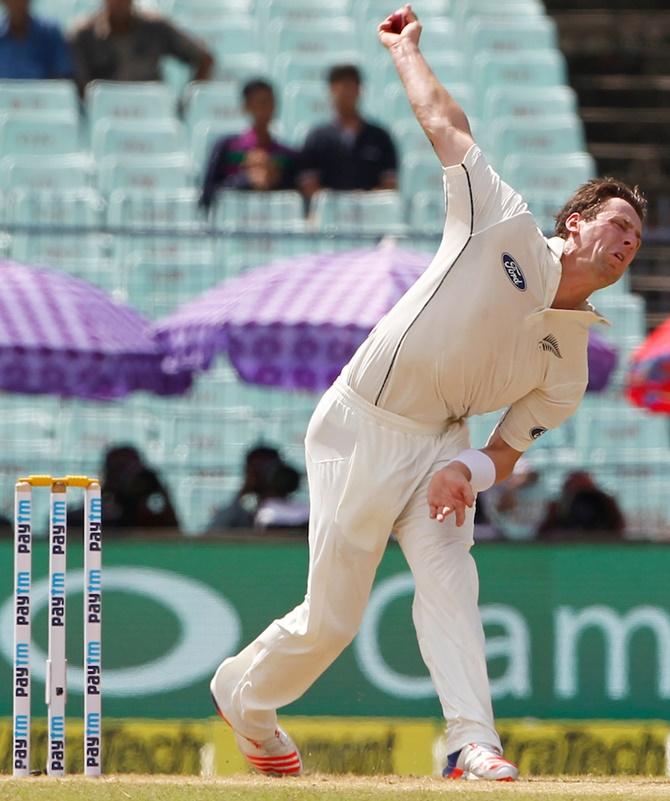 IMAGE: Matt Henry of New Zealand bowls during Day 1 of the second Test against India. Photograph: BCCI.
Heaping praise on their 'outstanding' bowling effort, New Zealand pacer Matt Henry, on Friday, said that the key was to arrest India's run rate on day one of the second Test at the Eden Gardens.
India's batting line-up failed to recover from the early blows dealt by New Zealand's concerted bowling effort and wobbled to 239 for seven on day one of the second Test.
"The way we went about our work today was outstanding. We knew we had to make sure we controlled the run-rate because it is very tough in these conditions to take wickets," Henry, who was the top wicket-taker for the New Zealand with 3 for 35, said.
That the wicket was under cover for a long time gave New Zealand a slight advantage after India skipper Virat Kohli opted to bat upon winning the toss.
"We knew it was important with the new ball to take advantage of it because the wicket had been under covers for a long time. So that was going to be a crucial part of the game.
"Obviously coming over here you probably don't expect conditions like that at the start of the day, so we knew we had to make the most of that, especially being put in with the ball. It was always going to be tough work through that middle period when it would become a good surface," he explained.
"We had to find ways to put pressure on when we weren't taking wickets and as a bowling group that is a box we ticked today," the 24-year-old said.
A disciplined New Zealand impressed on a hot and humid day, with only Cheteshwar Pujara (87) and Ajinkya Rahane (77) spending some time in the middle. Henry said the key would be to maintain the tight bowling partnerships on Saturday as well.
"We have to make sure that we create pressure by building dots. Our spinners were outstanding today. Jeetan (Patel) and (Mitchell) Santer were fantastic in allowing us to build a lot of pressure and that manifested to what happened at the end of the day. That first hour tomorrow is crucial.
"We just have to keep applying our work and still be patient and do our jobs. It is going to be an important session for how the game unfolds," said Henry.
The Kiwis had a fine start as they knocked off three top batsmen by the first 50 minutes including Kohli, whose rare lean patch continued as he got out to a reckless shot way outside the off-stump.
Asked about the plan to get the best Indian batsman out, Henry said: "He is obviously a world-class player and you have to very patient with those kind of guys. Every bowler has an individual plan of how he will skin the cat and the way Boult bowled to him was fantastic and he eventually got the result.
"It was important to make them play. It wasn't really rocket science. It's the same thing at home, new ball offering a bit of bounce you've got to make sure if you miss you miss full so we are getting them driving and hitting in the areas we want them to hit."
Henry, however, acknowledged that in the second session Pujara and Rahane batted with resolve and steadied the ship.
"They batted really well and were really composed throughout the entire middle period (of the day). We knew if we could hold the runs, the wickets would come eventually.
"It was really hot and tested us a lot mentally and physically. A lot of the guys we knew we weren't far off and if we put a couple of wickets on that scoreboard it would put on an interesting situation for the new ball (later on)."
Patel, who came in as a replacement for injured Mark Craig, made his presence felt in the final session as the Kiwis took four more wickets in their most productive session.
This was Patel's first Test since January 2013 as he was flown in from England, where the 36-year-old off-spinner was the leading wicket taker for Warwickshire with 69 scalps.
"It is a tough ask coming in from England and only having a couple of days to prepare. He's obviously got a lot of experience and was outstanding. He brought a lot of energy in the field and experience and confidence.
"I thought the way he played today was exceptional, the way both spinners played in tandem. They showed a lot of control and created pressure through those tough periods where it was really hot and important we could control that run-rate because we had to keep that squeeze on."
Trailing 0-1 in the three-Test series, the effort was sweeter as they had to deal with another blow this morning when skipper Kane Williamson, a No 2 Test batsman and best suited to tackle spin, was ruled out due to a stomach bug.
"We have a great batting line-up and obviously it is a shame not to have Kane there. It is going to be a tough day with the heat and things like that. We just have to keep playing the long game and apply it as best we can. I'm not a batter (to predict a score) but we are in a good position and it is going to be an important day tomorrow," Henry said.
Called in as a replacement for pace spearhead Tim Southee, Henry too made a return to play his fifth Test.
"I knew I was coming over and was prepared to play... I know my role and do the best. I found out this morning and nothing really changes, we all prepare to play and we knew what are roles and what we had to do out there today. I knew I had to make sure I did all my preparation. I've still being doing a lot of training and work behind the scenes."
Asked how hard it was to make a return from being in the fringes, he said: "It's never easy but it is one of those things that we have such a strong bowling group. It is a good position for us to be in, you just always have to prepare to play and focus on what the team needs and what your role is going to be so if you do get called in.
"Even not being able to play in South Africa, I was still doing a lot of work with the coaches in the nets and making sure I was ready to go if needed. We had a few warm-up games out at Lincoln, some winter training squad one-dayers to keep the loads up," he said about their last series in South Africa, which they lost 0-1.