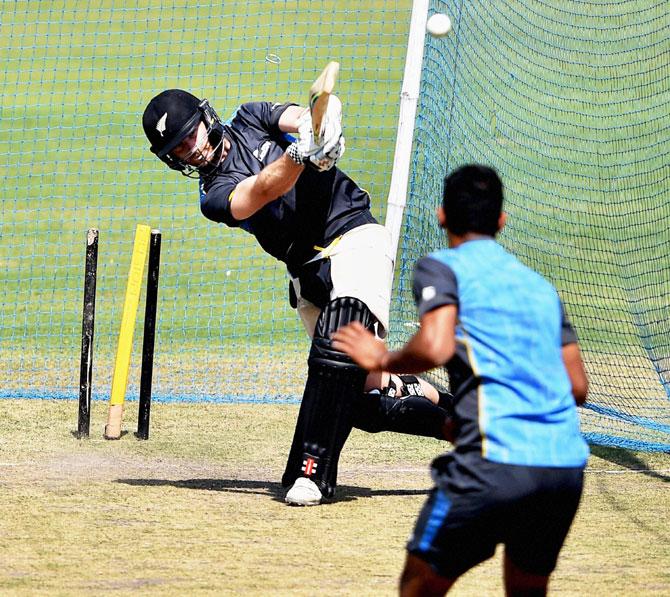 IMAGE: New Zealand captain Kane Williamson at a nets session ahead of the 4th ODI Match against India at Ranchi on Tuesday. Photograph: Swapan Mahapatra/PTI
Tom Latham has been New Zealand's best batsman on the on-going tour of India, having struck five half centuries. But he knows the biggest responsibility is to help the visitors win and for that he looking to take a cue from Virat Kohli's batting.
After being whitewashed 0-3 in the preceding Test series, New Zealand are trailing 1-2 in the ongoing five-match ODI series against India heading into the fourth One-day International in Ranchi on Wednesday.
"You need those big hundreds if you want to win. Look at Virat (Kohli) the other night. He got into a position and he won the game (for India). Obviously it's nice that I am putting myself in that situation. Hopefully, I am able to put up a big score. It's the big hundreds that count," Latham told reporters at the pre-match press conference on Tuesday.
Even as they struggle to win games here, the 24-year-old opener said they're looking forward to that "perfect show" in their bid to save the series.
"In cricket you have to learn to adapt to different surfaces. I think we haven't assessed that early enough. For me, it's about getting used to the conditions because they are so different to the conditions back home.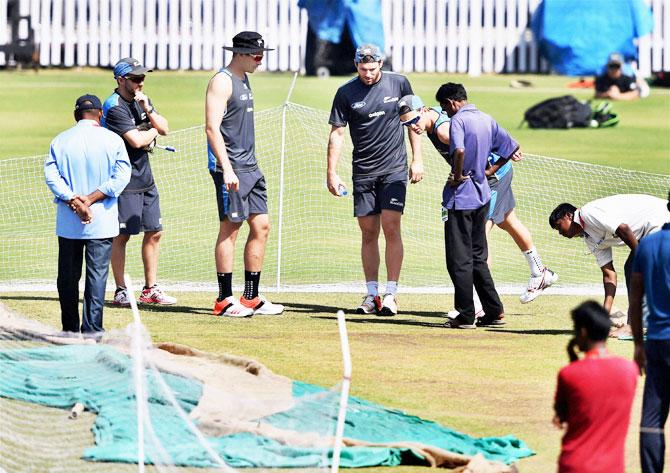 IMAGE: New Zealand Cricketers inspect the pitch during their training session at Ranchi on Tuesday. Photograph: Swapan Mahapatra/PTI
"We know we haven't put our best foot forward in a few games now. Everyone is trying hard to put that perfect performance and we are not far away. Certainly looking forward for that chance tomorrow," he said about the must-win game.
Indicating that the Ranchi turf has plenty of runs on offer, he sensed the struggling Kiwi batsmen could fire on all cylinders.
"Certainly, it looks a lot different to the Mohali wicket. It's very bare and not much grass is there. It can change a lot in a day so we will wait and see what happens tomorrow. Hopefully, there will be lot of runs coming from the batters. As I said before, we have to adapt to the conditions.
"I think it's important that whether we bat or bowl first, we make that assessment (about the surface), get the news to the group about what's the best score here. It's the most important thing for us. We have to adapt and adjust quickly.
"I suppose the more myself and everyone out there is exposed to these conditions, the more experienced we get and hopefully in future tours, we can challenge more and share our skills. Personally, it has been nice to spend a bit of time (in the middle) and getting used to the conditions.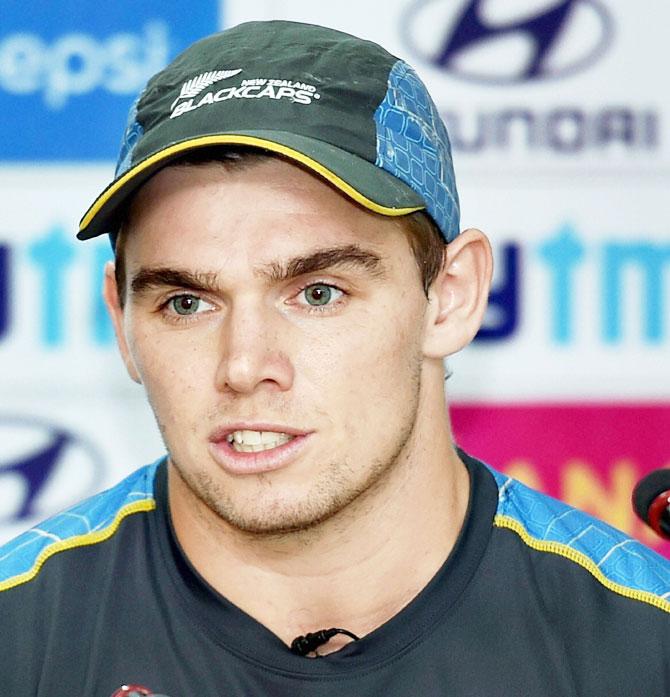 IMAGE: New Zealand cricketer Tom Latham interacts with the media during a press conference in Ranchi on Tuesday. Photograph: Swapan Mahapatra/PTI
From 160 for three, New Zealand lost wickets in a heap before James Neesham (57) and Matt Henry (39 not out) bailed them out to take them to a fighting 285 in the last ODI.
"We need to get better in the middle-order, build a few partnerships. We have seen that we bat deep, hopefully we can put the icing on the cake by batting better in the middle-order."
"I wouldn't say we have done a lot of over thinking. For every game we prepare the same way. The good thing about this group is that when things are not going our way, we don't get bogged down and when things are going our way, we don't get too high. I think it's important you make subtle changes in your game based on the surfaces.
Kiwi left-arm spinner Mitchell Santner who is also a handy batsman, is also yet to fire and Latham hoped that his day would come soon.
"He's experienced at this level and especially on these conditions as well. But I think the way he stood (for us) in Tests and ODIs has been great. I know he's not far away from a really good performance and playing a key role in our bowling and certainly the batting. That goes for everyone."