'It's not a nice feeling.'
'I'm proud of the guys to show some fight in this game but I'm still disappointed we didn't put up a better fight.'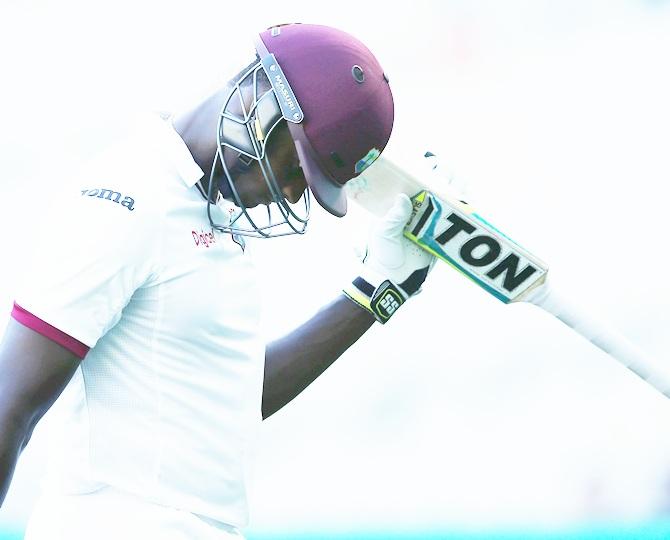 IMAGE: West Indies captain Jason Holder walks off after being dismissed. Photograph: Michael Dodge/Getty Images
Deflated West Indies captain Jason Holder has demanded his players find the belief to win after their improved performance in Melbourne still ended in a draining 177-run loss in the second Test and a 2-0 defeat in the series.
PHOTOS: Aus decimate Windies to claim Boxing Day Test and series
The Caribbeans were trounced within three days in Hobart but showed more pluck at the Melbourne Cricket Ground to push the match into the final overs of day four.
"It hurts," the young captain told reporters after scoring a valiant 68 in the second innings to slow Australia's charge.
"It's not a nice feeling.
"I'm proud of the guys to show some fight in this game but I'm still disappointed we didn't put up a better fight."
"Not only to get to five, the goal is obviously to win," he added of next week's dead rubber Test in Sydney.
"It's a situation where we just need to believe. We probably showed a lot more belief when we went into bat. You could see guys really trying to apply themselves.
"We showed application and signs that we can compete, we just need that belief."
All of the top seven West Indies batsmen made starts in the second innings but only wicket-keeper Denesh Ramdin and the captain surpassed 50.
Holder praised Darren Bravo for leading the batting amid the struggles of the much-maligned Marlon Samuels, who has managed scores of 3, 9, 0 and 19 from the series.
The skipper was also buoyed by the positive debut of paceman Carlos Brathwaite, who scored a 59 in the first innings and showed good control if not pace with his bowling.
The match was lost by West Indies' bowlers, however, who could take only three wickets in each innings and were expensive for the most part.
"Obviously, our bowlers still need to be a lot more disciplined," he said.
"We need to find ways to control the game a lot more.
"Although the pitches have been very good for batting, we still have to find ways to contain. That's one area we really need to tighten up on."