'Pinky' will make its debut in the first day-night Test in Adelaide this week.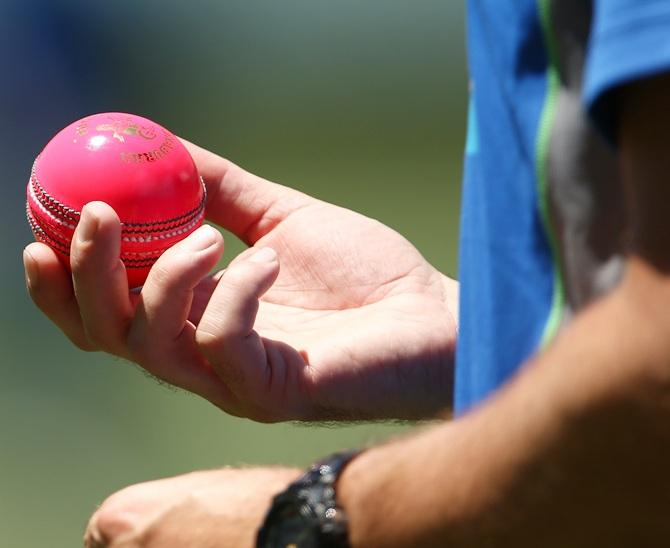 IMAGE: Pink cricket balls will be deployed during the first day-night Test between Australia and New Zealand at the Adelaide Oval this week. Photograph: Morne de Klerk/Getty Images
Test cricket is about to get another makeover when this week's first-ever day-night Test between Australia and New Zealand gets underway in Adelaide.
While playing with a pink ball under lights may be anathema to staunch cricket traditionalists, administrators point to dwindling crowds as they attempt to move the Test format into the 21st century.
Cricket Australia boss James Sutherland has defended the use of the controversial pink ball in the face of players' criticism and is adamant it will prove a success during Test cricket's first day-night game, the first in 138 years.
Sutherland has been a champion of the day-night Test concept, so the pink ball's failure to perform adequately in the Addelaide match would be a major black eye for his board.
The pink ball has been developed for day-night Test cricket, replacing the traditional red ball which becomes too difficult for batsmen to see after dark.
White balls have long been used in limited-overs cricket because they can be seen at night, but lack the endurance to perform for 80 overs in Tests.
Kookaburra, which manufactures the balls used in Australia, say the difference between the red and pink versions is primarily a very fine film of extra paint used on the pink ball to help keep its colour.
Pink-ball Tests -- the day-night concept has been hailed as 'thoroughly enlightened' by the new International Cricket Council chief, the legendary Pakistan batsman Zaheer Abbas -- could be the start of a cricket revolution.
Former Australian captain Mark 'Tubby' Taylor, a Cricket Australia board member and erudite television commentator, advocates the introduction of four-day, 100-over Tests and a more clearly defined championship.
'You've got to look at the game as a whole,' Taylor said the other day. 'Where is cricket going? The younger generation generally want more instant gratification and I think over five days to keep them interested in the game is not so easy.'
'People are more about who is the best in the world at the moment. They like watching World Cup finals (so) if you're always working towards who is the best Test team in the world, that can only help the game.'