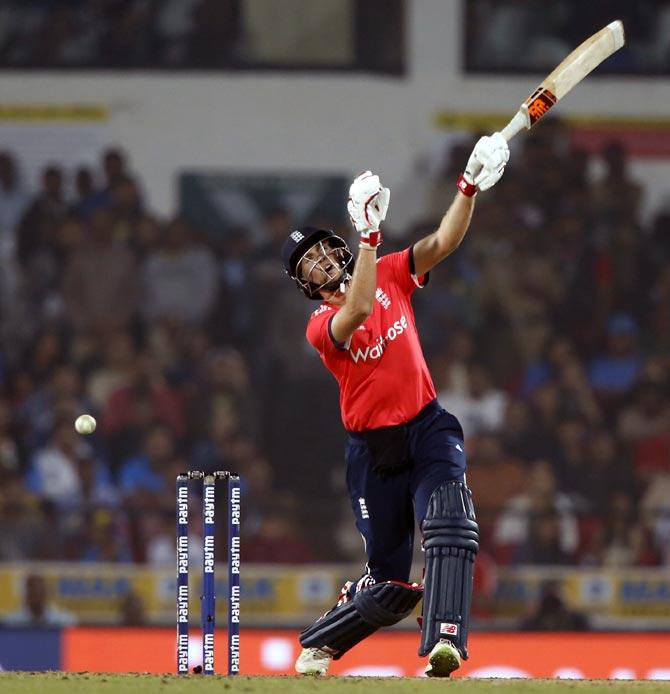 IMAGE: Joe Root bats during the second T20I against India in Nagpur. Photograph: BCCI
England might have been on the receiving end of some poor decisions in the second T20 International against India but senior batsman Joe Root on Tuesday said it would not be right to single out any umpire Chettithody Shamshuddin for his mistakes.
Infact, Root was given out leg before wicket off an inside edge in the final over, which England captain Eoin Morgan claimed proved crucial as India clinched a narrow five-run victory, in Nagpur, on Sunday

"I have no problem with him (Shamshuddin) umpiring any of our future games. As a player you are going to make mistakes and as an umpire you are going to do exactly the same. I don't think it would be right to single him out as a person at fault for that game," he said on the eve of the third and final T20 match against India at the M Chinnaswamy stadium in Bengaluru.
"Umpires are under as much scrutiny as we are and if you make consistent mistakes you will get found out and you might lose your international status. I don't think that is for us to worry about as players and we know that the best umpires available are going to be standing in our games so it would be wrong to make him feel uncomfortable. He should be able to go and do his job as we are ours and he will be under enough external pressure after what happened the other night anyway."
Root claimed that had it been a final or a semi-final match of a big tournament then they would have been felt disappointed.

"But if that was in a major tournament - in final or a semi-final - from a decision that goes against us, we're going to feel bitterly disappointed. It wouldn't be fair to him as the umpire standing in the game to have to deal with the aftermath," said the 26-year old England batsman.

"Bumrah deserves a lot of credit for the way he held his nerve at the back there," he added.
On being asked if it's time to introduce the Decision Review System (DRS) in T20 internationals, Root replied: "Is it time now for some sort of DRS in T20 cricket? I know you want to keep the speed of the game but with it being such small margins and so important for us to get things right. With bat or ball, if you miss your yorker you go out of the park - it's just as important to get the right decisions from the umpires as well. It would be quite nice to see maybe even one review for either side. But we are where are with it at the moment.

"I would like to think it will get raised anyway by a few different members but I am not an official of the sport, I don't know what's best for the game, I am only offering an opinion. I can't speak on behalf of the rest of world cricket or even for the rest of my team. It's just something I believe in and I am sure there are others out there who will agree with me."
Root said that England are looking to end their India trip on a high by winning the T20 series, following their defeats in both the Test and ODI series.

"It has been a tough tour, but we have enjoyed. We have played good cricket of late, but it will be nice to get a well-deserved win in tomorrow's game," he added.