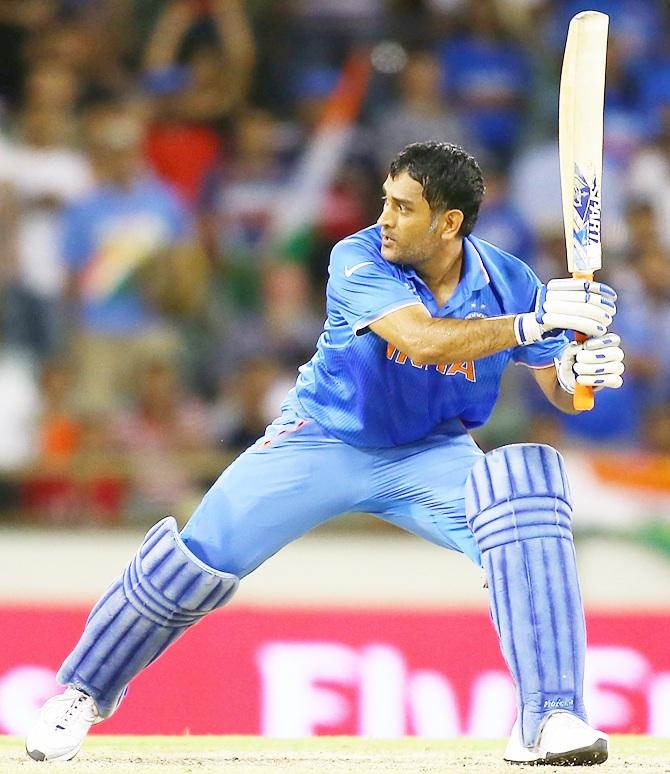 India's Mahendra Singh Dhoni. Photograph: Paul Kane/Getty Images
When Bangladesh defeated India by 79 runs in the first One-day international in Mirpur on Thursday, they registered their ninth straight win at home.
Disappointed with the way pacers bowled: Dhoni
When a debutant stunned two time World Champs...
But the talking point of the match wasn't the historic result but the surprising show of aggression by India's captain, Mahendra Singh Dhoni.
Dhoni shoved Bangladesh's fast bowler Mustafizur Rahman and appeared to have injured him in the process. The left-arm pacer, who made his ODI debut on Thursday, though, was guilty of coming in Dhoni's way and had to go off the field for treatment.
Following the incident, off the second ball of the 25th over, Dhoni climbed high on Bangladesh cricket fans' hate list.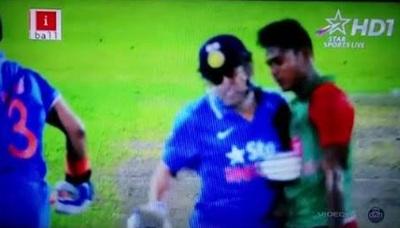 A television grab of India's Mahendra Singh Dhoni pushing Bangladesh's Mustafizur Rahman
India's skipper took off for a quick single, and after seeing the 19-year-old in his way appeared to lean towards Mustafizur and barge into the back of him.
Television slow-motion replays showed Dhoni not only made no effort to change his course but also shoved him away.
It certainly looked like an unsporting act, something Dhoni has never been accused of in his illustrious international cricket career.
However, both Dhoni and Bangladesh captain Mashrafe Mortaza made light of the on-field collision, saying it was not a big deal and such incidents can happen in a match.
Dhoni said: "The bowler (Mustafizur) thought I would move away while I thought he would. But as none of us did, we collided.
"I think this can happen in any match. It's nothing big. I spoke to him later."
Mashrafe also did not want to drag the issue.
"Things like this can happen on the field during a match. We all shake hands at the end of the day and such situations can be discussed with the on-field umpires. It's nothing serious," he said.
The local fans, however, did not like Dhoni's behaviour and immediately took to Twitter to express their anger.
Point is: Was Dhoni guilty of losing his cool? Tell us: