Ireland qualified for its third successive ICC Cricket World Cup after its World Cricket League Championship match against Netherlands on Tuesday ended in a sensational tie in Amstelveen, on Tuesday.

The home side's number-nine batsman Michael Rippon hit a four and a six from the final two deliveries off John Mooney to snatch a point for his side, but couldn't stop Ireland from winning the World Cup League Championship and progressing to ICC's flagship event that will be staged in Australia and New Zealand in 2015.

Earlier, half-centuries by Ed Joyce (96 not out) and Niall O'Brien (50), and an equally good knock by Paul Stirling (49) helped Ireland to score 268 for five from 50 overs, after it had elected to bat first. In turn, the Dutch started confidently through Wesley Barresi (46), Eric Szwarczynski (44) and Stephan Myburgh (35), and reached 135 for one before slipping to 142 for four. A rearguard action by Daan van Bunge (45) and Tom Cooper (38) brought the Netherlands within touching distance when it needed 16 off the final 12 balls.

Alex Cusack conceded three runs in the penultimate over of the innings and Mooney started the final over impressively by giving away just two runs off his first four deliveries. However, at this stage, Rippon gatecrashed the Irish party when he hit a four and a six off the final two deliveries to earn a valuable point for his side. This point may go a long way in helping the Netherlands to become the second side from this tournament to qualify for the ICC Cricket World Cup 2015.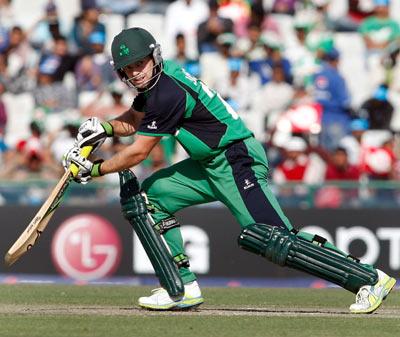 After Tuesday's result, Ireland has moved to 20 points, with nine wins from 12 matches. This means Ireland is beyond the reach of its closest rivals irrespective of how the seventh and last round matches pan out.

The result also makes Ireland the first of four qualifiers for the ICC Cricket World Cup 2015. It will be the third time that Ireland will appear in ICC's flagship event after it participated in the ICC Cricket World Cup 2007 in the West Indies, where it defeated both Pakistan and Bangladesh, and then in the ICC Cricket World Cup 2011, where it chased down a 328 runs target to beat England by three wickets with five balls to spare.

In addition to the ICC Cricket World Cup, Ireland has also appeared in the ICC World Twenty20 in 2009, 2010 and 2012.

While Ireland may have added the Pepsi ICC World Cricket League Championship trophy to its collection, there is still one place up for grabs from this tournament with four sides – Scotland, Netherlands, Afghanistan, and the United Arab Emirates (UAE) – all still capable of claiming second position.

While the top two sides from the ICC World Cricket League Championship will go forward to the World Cup 2015, the six sides that do not qualify from this event will have a second chance to qualify through the ICC Cricket World Cup Qualifier New Zealand 2014, alongside Hong Kong, Nepal, Papua New Guinea and Uganda. The ten teams will lock horns for the remaining two positions in the ICC Cricket World Cup 2015.

Scores in brief:

Ireland 268-5 (50 overs) (Ed Joyce 96 not out, Niall O'Brien 50, Paul Stirling 49, William Porterfield 30, Trent Johnston 21 not out; Mudassar Bukhari 2-63)

Netherlands 268-9 (50 overs) (Wesley Barresi 46, Daan van Bunge 45, Eric Szwarczynski 44, Tom Cooper 38, Stephan Myburgh 35; Kevin O'Brien 3-52, Paul Stirling 2-37)

Result: Match tied
Image: Ed Joyce
Photograph: Graham Crouch/Getty Images