Opener Murali Vijay's unbeaten 151 ensured Rest of India a crucial 75-run first innings lead on Day 2 of the Irani Trophy match against Rajasthan, at the Chinnaswamy stadium in Bangalore, on Saturday.
Rest of India were 328 for 2 at stumps, with Vijay and S Badrinath (1 not out) at the crease.
Rajasthan were all out for 253 on the first day.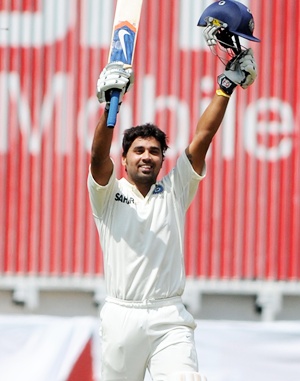 Vijay hit 18 fours and five sixes during his 257-ball innings, which was his tenth first-class century.
Ajinkya Rahane and Cheteshwar Pujara contributed 81 and 78 respectively, and were involved in big century stands with the Tamil Nadu opener.
After adding 173 runs for the first wicket with Rahane, Vijay was joined by Pujara; the two raised 153 runs for the third wicket to put their team in a commanding position, a day after the bowlers set it up, Umesh Yadav leading the way with a five-for.
Vijay notched his century by ambling across for a single off Madhur Khatri, a fleeting moment after hitting him out of the park for a maximum.
Out of the Indian team, Vijay used the opportunity with a well-stitched innings that should force the selectors to take note.
Just before the close of play, Vijay reached 150 after he pushed Khatri for a single to long-off.
The first-wicket partnership was broken when Rahane, who reached 5,000 runs in first-class cricket, was run-out after facing 143 balls. His knock was studded with 12 hits to the fence.
The second wicket fell in the form of Pujara, who was snapped up by Dishant Yagnik off Aniket Choudhary for a well-made 78 off 140 balls, laced with eleven boundaries and a six. Earlier, the Saurashtra player survived a scare on 57 when he was dropped in the slips.
On a pitch that has a tinge of grass but no real assistance for the bowlers, Rajasthan were sent on a leather-hunt by ROI batsmen. That the Ranji champions failed to utilise the early morning conditions only made their task difficult.
Rajasthan missed strike bowler Pankaj Singh, who has taken 77 wickets since 2010-2011. The absence of Ashok Menaria and Rituraj Singh -- both doing duty for the India 'A' team in New Zealand -- was also felt.
They were further jolted when pacer Deepak Chahar walked off the field due to an injury in the post-tea session.
Scorecard
Rajasthan (1st innings): 253
Rest of India (1st innings)
Ajinkya Rahane run out (Madhur Khatri/D Yagnik) 81
Murali Vijay batting 151
Cheteshwar Pujara  c D Yagnik b Aniket Choudhary 78
S Badrinath batting 1
Extras: (b 4, lb 2, w 5, nb 6, p 0) 17
Total: (2 wkts, 91 ovs) 328
Bowling: Aniket Choudhary 19-5-57-1, Deepak Chahar 12.1-1-53-0, Sumit Omprakash Mathur 15.5-1-51-0, Gajendra Singh 24-2-79-0, Madhur Khatri 19-1-72-0, Vineet Ashokkumar Saxena 1-0-10-0
Photograph: Pal Pillai/Getty Images