Preity Zinta: 'I most definitely DID NOT be disrespectful to our coach nor abuse anyone & definitely did not use the FOUR LETTER WORD.'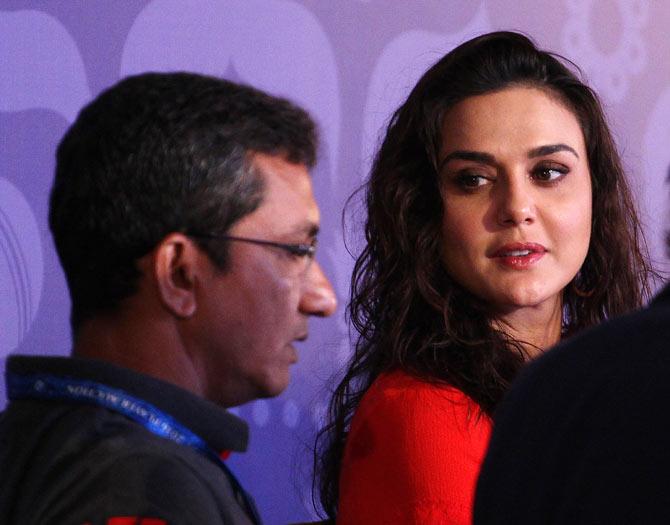 IMAGE: Kings XI Punjab co-owner Preity Zinta, right, with coach Sanjay Bangar. Photograph: BCCI
Kings XI Punjab coach Sanjay Bangar dismissed reports that claimed he was abused by franchise co-owner Preity Zinta following the team's one-run defeat to Royal Challengers Bangalore, in Mohali, on Monday, May 9.
"After our one-run defeat against RCB, there was the usual post-match discussion on the match with Kings XI owners. Some reports in the media have blown the issue totally out of proportion by fabricating a non-existent chain of events," said Bangar on his Facebook page.
"Loss by close margin hurts but team has been playing good cricket. No reported abusive or disrespectful language was against me. Kings XI will continue to fight for its survival in the tournament," he added.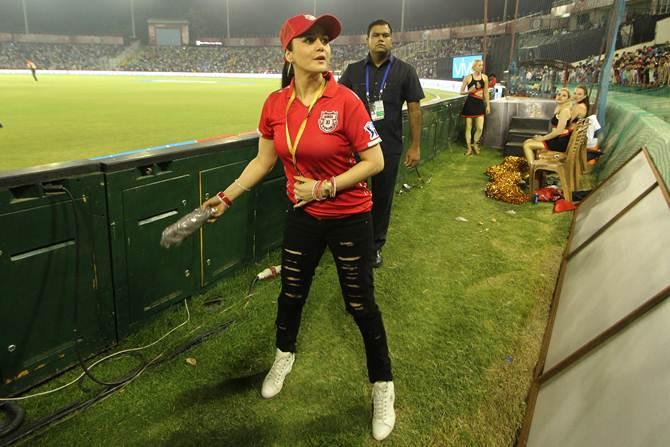 IMAGE: Kings XI Punjab co-owner Preity Zinta gestures during the IPL match against Royal Challengers Bangalore in Mohali. Photograph: BCCI
A media report claimed that Zinta hurled expletives at Bangar after the narrow defeat.
Zinta too rubbished the report.
"I most definitely DID NOT be disrespectful to our coach nor abuse anyone & definitely did not use the FOUR LETTER WORD. Your story reeks of SEXISM and is incorrect & exaggerated beyond words," she wrote on her Facebook page.
"Sanjay & I BOTH have DENIED this story STILL it gets Printed. I am fed up of this nonsense & negativity. Just because our judicial system is slow some Indian Journalists time and again use it to write ANY & EVERYTHING & make soft targets of celebrities," she added.
Kings XI Punjab are languishing at the bottom of the points table after seven defeats in 10 matches.