Former India skipper Ravi Shastri said veteran Sachin Tendulkar still has a lot of cricket left in him and a call on retirement will be entirely his prerogative.
- Should Mumbai Indians drop Sachin Tendulkar?
"Often there is a discussion about Sachin's retirement but since his health and body is fit, he's playing... when he wants to stop, he will stop..," Shastri said in Shirdi.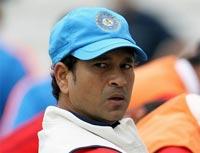 "I think a player like Sachin will not come up atleast in 100 years," he added.
Answering to a query, he said that if spin bowler Ravindra Jadeja improves his batting, he could become a genuine all-rounder.
About his own record of hitting six sixes in an over in first class cricket, he said that records are often made to break but "my record in first class cricket is difficult to surpass."
Ahmednagar district judge and president of the three-member committee of Shirdi Sansthan Trust Jayant Kulkarni felicitated Shastri on the occasion.