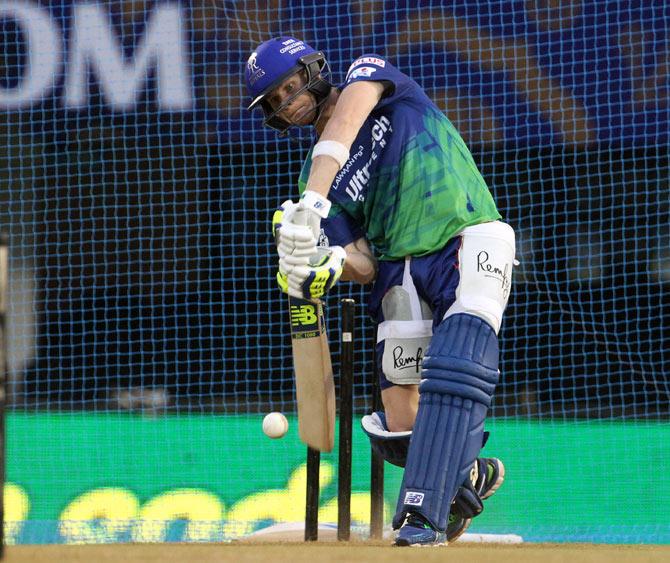 Steven Smith in the nets. Photograph: BCCI
By his lofty batting standards in recent Tests as well as in the World Cup, Steve Smith has succeeded only moderately in the Indian Premier League for Rajasthan Royals this season, but he is optimistic that he would deliver big in the remaining matches of the T20 league, including the all-important play-off games.

"I still feel I am hitting the ball well. I still feel very good at the crease and am confident of contributing in the business end of the tournament," said the Australian batsman, who was the scourge of the Indian bowlers in the four-Test series down under prior to the World Cup, in Mumbai on Wednesday.

"Look, I would have liked a few more runs at this stage of the tournament. We've performed well as a side and that is what matters. We are near the top of the table and a few games to go. Hopefully we can finish off well by winning one of our last three and make it to the qualifiers," he elaborated on the eve of Royals' 12th match against Sunrisers Hyderabad.

Royals, who were knocked out by Mumbai Indians last year in the race for the fourth and final play-off spot, need one more win from the remaining three games to make the play-offs stage.

"It (game against SRH) is another important game for us. We are probably one win away from being able to qualify for the finals. It is a big game for us. We have got Chennai and Kolkata to play as well, two other quality teams," said Smith, who has scored 179 runs from 10 games.

"Hopefully, we can play well tomorrow, here at our second home at the CCI (Brabourne stadium) and be able to qualify for the finals (play-offs) after tomorrow's game," said the 25-year-old Smith who is the front-runner to take over the one-day captaincy from Michael Clarke who has retired after leading Australia to World Cup glory.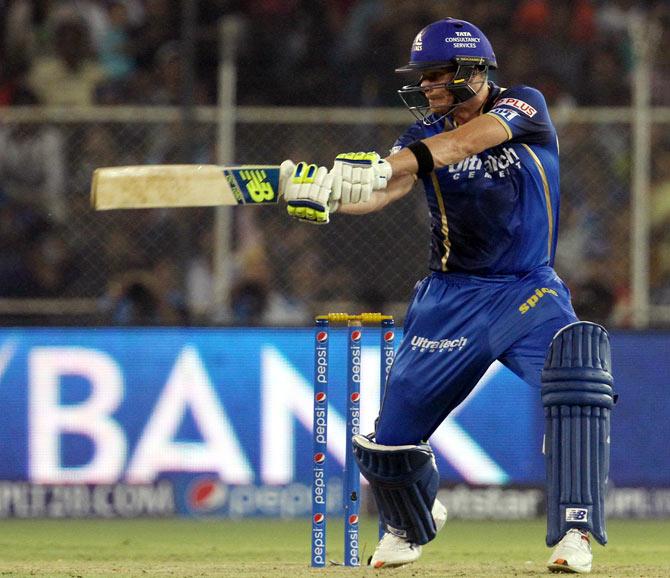 Steven Smith hits out. Photograph: BCCI
Smith said different approaches to batting in different formats is probably the key to his success in all three formats of the game.

"It is just about being able to go up and down in different gears. In Test cricket, you obviously got a lot more time. For me it is just about being patient in batting, not try and do too much, not try and premeditate anything," Smith said.

"With my training, I try and bat the same way as I would out in the middle, that's leaving lots of balls, just being patient (in Tests). With training for T20, I try to clear the fence a lot.

"I know that I have got the game to be able to just bat (in all formats). What I need to work on in T20 is my power game, hitting big balls. That is what I practice in T20. I change my training routine a little bit more than anything, but basics remain pretty much the same."

Smith said he had some modest success in Tests played in India and is eager to confront the challenge again in 2017 when Australia will be visiting the country.

"I have had a little taste of playing Test cricket in India. I got 92 and 46 in the Test I played here. It certainly is a great place for Test cricket. It's a big challenge playing against India in these conditions. I would love to come back, I guess it would be in 2017, when we come back next," said the 25-year-old Sydney-born batsman who has played 28 Tests and 58 ODIs since his international debut in February, 2010.