The Mumbai police have seized a crucial piece of evidence to nail Sreesanth -- his laptop and also the diaries. In addition to this the police also seized cash of Rs 72000 from his hotel room in Mumbai on Saturday.
-Mumbai police seize cash, laptop from Sreesanth's hotel room
The police are examining his laptop and would also check the transcripts including his emails. The diary entries made in English and Malayalam are being examined by the police.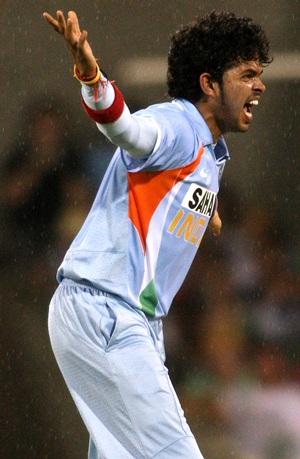 One officer informed rediff.com that there is a lot of vital data that has been retrieved from his room.
The seizure was conducted following Sreesanth's confession in police custody in New Delhi. He was said to be cooperating and broke down as he confessed.
The police are not entirely relying on his confession to nail the cricketer. They are also using the interrogation to get more leads into the case.
There are contradictory figures that have been quoted during the interrogation. "Sometimes he tells us it is Rs. 1000000 and at times it is Rs. 40 lakh. The bookies will reveal the correct figures and also his diary and laptop will help with this information," a police source said.
On Saturday, the police questioned the three accused cricketers together. It came to light that they were jointly involved in the conspiracy. The police will confront each of these players with the bookies. The police will continue with this process for another three days until the custody ends.
The police said that they would seek an additional custody of the accused. "We need another five days and hence would oppose their bail plea. The magnitude of the case is such that we need more time," police sources also informed.
Photograph: Bradley Kanaris/Getty Images