Going deep into its Indian Premier League spot-fixing probe, the Mumbai Police seized a laptop, an ipad, and a mobile phone of fast bowler Sreesanth, one of the three arrested cricketers, from the hotel where he was held.
The seizures came even as more trouble was in store for the Rajasthan Royals player from Kerala with Mumbai Police Joint Commissioner (Crime) Himanshu Roy saying its crime branch may book him in a spot fixing case registered by it and seek his custodial interrogation.
- Sreesanth led cops to laptop, diary
Simultaneously, Delhi Police despatched teams to Mumbai, Ahmedabad, Kolkata and Hyderabad to track the money trail in the spot-fixing case in which it has arrested three cricketers -- Sreesanth and fellow Rajasthan players Ajit Chandila and Ankeet Chavan -- and 11 bookies.
Roy told reporters in Mumbai that permission of a competent court has been secured for obtaining "mirror images" of a laptop computer, an ipad and a mobile phone seized from a room in a 5-star hotel in Bandra on Friday which the cricketer occupied before his arrest on Wednesday night.
"We are going deep into the investigation and Sreesanth might be booked in our case also here," Roy said.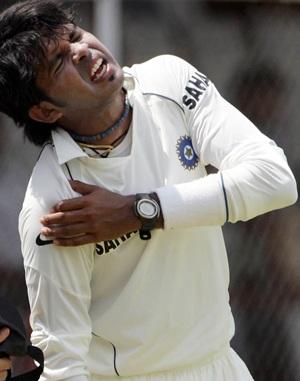 The lawyers of all the three players have denied the involvement of the cricketers in the spot-fixing.
The Delhi Police investigators are also looking into the bank accounts of the players to trace the flow of money and are trying to find out how it was spend. The television footages of three matches in question from the official broadcaster were also sought by the police.
The Crime Branch sleuths had on Thursday searched the rooms occupied by Sreesanth and Jiju Janardan, his close friend and bookie arrested by the Special Cell of Delhi police in connection with the spot-fixing scandal.
Apart from the electronic devices, cash, data card and diaries with entries in English and Malyalam, which appeared to be in Sreesanth's handwriting, were also seized.
The Delhi Police on Friday claimed that all the arrested three cricketers have "confessed" to spot-fixing in IPL matches.
The search of Jiju's room yielded an ipad, a mobile phone and some other belongings, Roy said, adding all these were being analysed with a "fine toothcomb" during the investigation.
The officer said Sreesanth had "independently" booked a room for himself through Tamarind Tours and Travels as other members of the Rajasthan team were not staying there.
"We are also in the process of obtaining CCTV footage from the hotel to ascertain who visited the cricketer since he checked in late on May 13 night. We are recreating events since then till 15th May when he was arrested," he said.
Asked if there is any evidence of a "honey trap" being laid to entice the cricketer into spot-fixing as being reported in the media, Roy said it is premature to say anything about that.
When asked if some Bollywood personalities too had visited Sreesanth in his hotel room, he said only an analysis of CCTV footage would help the investigators identify the visitors.
The Crime Branch had arrested three bookies -- Ramesh Vyas (52), Pandurang Kadam (41) and Ashok Vyas (32) --a day before the three Rajasthan players were held. Later, another bookie Pravin Behra was held at Bhandup.
92 mobile phones, out of which 32 were exclusively used to enable Indian punters get in touch with bookies in Dubai and Pakistan through teleconferencing, 18 SIM cards, a television set and a laptop had been seized from the trio, he said.
The four bookies were booked under IPC sections 465 (Punishment for forgery), 471 (using as genuine a forged document), 420 (cheating) and relevant sections of Prevention of Gambling Act and Information Technology Act.
Roy said the interrogation of Vyas and examination of accounts books showed that some of the bookies also figured in the case being probed by the Delhi Police.
"Vyas not only made calls to those bookies wanted by the Delhi police but also their names appeared in his account books. There were some financial transactions among the bookies," the crime branch chief said.
Meanwhile, one more bookie Pankaj Shah who was in touch with Vyas was held from suburban Mulund on Friday.
While Vyas was remanded to police custody till May 20, the other four bookies, including Shah, were remanded to police custody till May 22.
The Delhi Police sources claimed that bookies paid Rs 10 lakh as advance to Sreesanth and it was collected by his close friend Jiju Janardhan who was also arrested. The bookies had allegedly struck a deal of Rs 40 lakh with Sreesanth through Jiju.
When asked about evidence against the Kerala pacer, the sources did not say whether he directly spoke to bookies but claimed that he used Jiju's phone, which was tapped, to speak to "others".
"We have strong evidence against him. We know how the advance money he got from the bookies," a senior police officer said.
The Delhi Police raided the Faridabad residence of Chandila for the second time. They had searched his residence on Thursday, the day he was arrested.
The investigators said they do not feel the need to conduct searches at the residences of Sreesanth and Chavan "as of now" as they have enough proof against them.
"We are satisfied with the progress in the probe but this is not the end. We have asked SetMax to provide us with raw footage of the three matches in which the arrested players have allegedly indulged in spot-fixing. They players have willingly indulged in this," the officer said.
Photograph: Duif du Toit/Gallo Images/Getty Images