In a sensational development, Indian paceman S Sreesanth and two of his Rajasthan Royals teammates Ajit Chandila and Ankeet Chavan were arrested by the Delhi police on charges of spot-fixing in the ongoing Indian Premier League.

The special cell of the Delhi police arrested Sreesanth from his friend's place in Mumbai while the other two cricketers were arrested on Wednesday night from the team hotel at Nariman Point for their alleged role in spot-fixing.
The arrest took place immediately after the players returned to their team hotel, following their match against Mumbai Indians at Wankhede stadium. The hosts won by 14 runs.
The Delhi police source said that these players were under the scanner for their role in spot-fixing in some of the earlier IPL matches although they did not elaborate which matches were under scrutiny.
The police have also arrested seven bookies in Mumbai and three bookies in Delhi in connection with the same case. They are looking for two more bookies in Delhi.
The development comes as a shock for the IPL authorities, who have time and again grappled with controversies and scandals ever since the league was launched in 2008.
IPL Chairman Rajiv Shukla said he was awaiting details on the incident.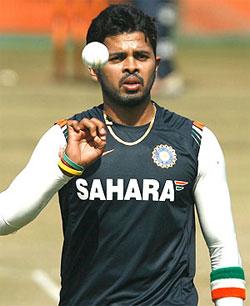 Rajasthan Royals CEO Raghu Iyer said that the three players were picked up by Delhi police on Wednesday night and the team management was co-operating with the investigation.
"We have been informed that 3 of our players have been called in for investigation on spot-fixing in matches. We are completely taken by surprise. We do not have the full facts at this point and are unable to confirm anything. We are in touch with the BCCI on this matter. We will fully cooperate with the authorities to ensure a thorough investigation. The management at Rajasthan Royals has a zero-tolerance approach to anything that is against the spirit of the game," the official statement from the Rajasthan franchise read, the report pointed out.