Even as the arrested cricketers are allegedly dragging more names into the IPL spot-fixing scandal, the Delhi police said it will send voice samples to the forensic sciences laboratory for examination.
The police have recorded the voices of the players while being questioned in custody and the samples, along with the voices obtained through the tapped conversations, will be sent for verification.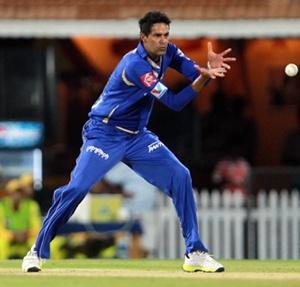 The players in custody of the Delhi police are believed to have named another Indian and an Australian and West Indies player, stating that they were in the know of things.
However, the police say there is no evidence against these players, maintaining that the case is only against the three Rajasthan Royals players, Shantakumaran Sreesanth, Ankeet Chavan and Ajit Chandila, who were arrested on Thursday.
Ajit Chandila's lawyer had claimed that the team management was in the loop about betting approaches.
Police sources say the claims made by the players will be investigated, but, for now, they will not jump the gun and summon each and everyone.
Some members of the Rajasthan Royals management too will be questioned, but there are no plans to summon the team owners and captain.
Image: Ajit Chandila, one of the three players arrested by the Delhi police in the IPL spot-fixing scandal.
Photograph: BCCI