Indian pacer S Sreesanth, who is out on bail after being arrested for his allegedly involvement in the IPL spot-fixing case, has said he was confident of getting a clean chit in the case.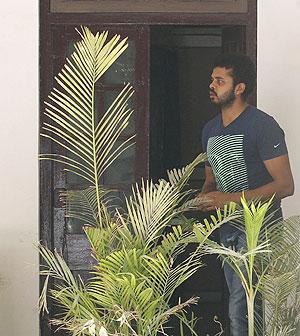 - I played the game in true spirit, says Sreesanth

- Sreesanth, Chavan released from Tihar on bail
"Even my enemies should not suffer this fate," Sreesanth, who arrived in Kochi, told reporters, on Wednesday.
"I got bail yesterday. I am confident of getting a clean chit... Even my enemies should not suffer this fate," he said, adding he had no role in the spot-fixing episode.
Police and CISF security had a tough time in bringing the cricketer out of the airport as a huge crowd of fans, onlookers and media personnel had gathered to receive him.
"I am happy to be here. I can meet my people," an emotional Sreesanth, who arrived here after spending 27 days in Tihar jail, said.
Sreesanth and Rajasthan Royals teammate Ankeet Chavan were released on bail on Tuesday. However, another RR player Ajit Chandila has not applied for bail.
The three were arrested on May 16, along with 11 bookies, from Mumbai by Delhi police and charged under Indian Penal Code Section 420 and 120B, which deal with fraud, cheating and criminal conspiracy.
Sreesanth, who arrived at around 9.20 AM, said he wants to forget the travails of the past few days and spend time with his parents, friends and fans.
"I have done no wrong, believe me. I will continue my training," he said.
Asked about his days in Tihar Jail, his reply was that none should face such a situation and that he did not want to be reminded of it.
As the cricketer, clutching a 'ponnada' (shawl) gifted to him by a fan at the airport, reached his sister's home at nearby Tripunithura, to meet his parents, his fans garlanded him. 'Sreesanth ki Jai' they shouted, braving the rains.
He was hugged by his parents, who were at the Nedumbassery airport to receive him.
Photograph: Reuters