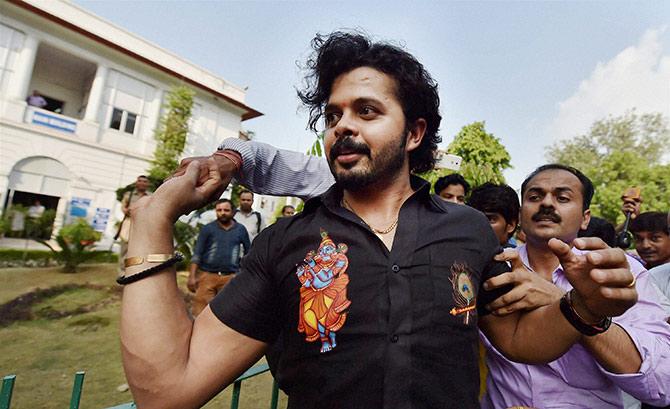 Cricketer S Sreesanth coming out of the Patiala House Courts in New Delhi after a trial court discharged him in the Indian Premier League 2013 spot-fixing scandal. Photograph: PTI
A Delhi court, which discharged cricketers S Sreesanth, Ajit Chandila and Ankeet Chavan in the sensational 2013 IPL-6 spot-fixing case, has held there was no prima facie evidence to suggest that they had any nexus with the organised crime syndicate.
Additional Sessions Judge Neena Krishna Bansal in her 175-page order on charge said "no prima facie case in any offence including provisions of MCOCA is made out against the accused persons and they are entitled to be discharged."
In a slap to Delhi Police, the court had on Saturday discharged all 36 accused, including the three cricketers, in the sensational spot-fixing case saying it had failed to gather "all necessary ingredients to establish a prima facie case" under stringent MCOCA.
The three cricketers, were banned for life from the game by BCCI immediately after the police action in the alleged scam two years ago.
Detailing the role of Sreesanth and his two friends P Jiju Janardhanan and Abhishek Shukla, the judge noted there was not a single criminal case, prior to the present one, against them, which is a mandatory provision for invoking Maharashra Control of Organized Crime Act (MCOCA).
"In the absence of this and of nexus with the crime syndicate, it cannot be said that he (Sreesanth) was indulging in continuing unlawful activity," the court said. It said the entire evidence on record suggests that Sreesanth was approached by Janardhan to play a fixed over at the behest of alleged bookie Chandresh Patel, but this did not happen as he had refused to play the fixed over.
"No evidence whatsoever is placed on record to show that they (Sreesanth, Janardhan, Shukla) were in communication with
or associated with organised crime syndicate and were the abettors of the crimes allegedly being committed by the syndicate," the court said.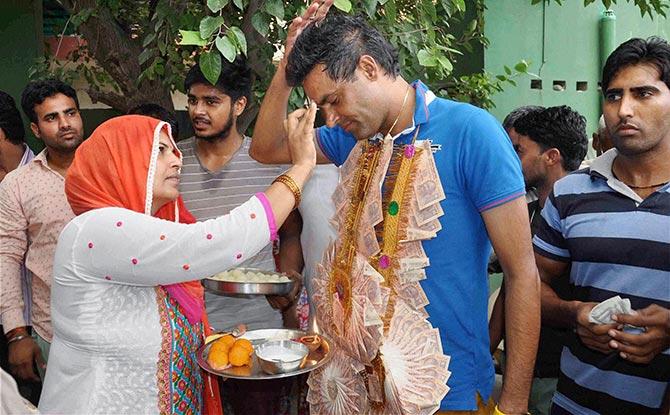 Cricketer Ajeet Chandeela being welcomed at his home, after a trial court discharged him in the Indian Premier League 2013 spot-fixing scandal. Photograph: PTI
The court, while relying on the conversations of Janardhanan and Chandresh Patel, said "Sreesanth was not willing to fix the over since he had come to play the game after a long time and was not willing to take a risk."
Detailing the role of Ajit Chandila, the court said that though he had agreed to under-perform, he did not do so. "He is not shown to have cheated anybody since he did not under perform after taking money," it said.
The court said there was "not an iota of evidence" to suggest that Chandila was aware of there being any nexus between bookies and the organised crime syndicate allegedly being run by Dawood Ibrahim and Chhota Shakeel.
"In order to invoke MCOCA, there has to be a link or nexus with the core syndicate which is not established," it said, adding that "no prima facie case against Ajit Chandila for any of the offences under IPC or MCOCA are made out."
Cricketer Ankeet Chavan with his wife at his residence in Mumbai. Photograph: PTI
Regarding Ankit Chavan, the court said there was also no evidence that he did not perform to the best of his capacity in the match.
"The statements of his (Chavan's) Rajasthan Royal team captain Rahul Dravid and other witnesses that he had under performed is merely conjectural without any basis. In any case, this does not amount to cheating as defined under section 415 of IPC," the court said.
It said the entire evidence against Chavan even if admitted, does not make him either a member of a crime syndicate, nor is he shown to have committed cheating. "Prima facie, no offence is made out against him," the court added.
Earlier, the police in a 6,000-page charge sheet had said it had unearthed sufficient evidence to prosecute the accused for the offence punishable under section 120-B (conspiracy) read with 419 (cheating by personation), 420 (cheating) of IPC and under the provisions of the stringent MCOCA.