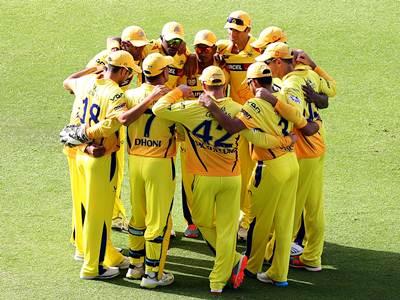 A senior Chennai Super Kings official, reacting to the franchise's suspension from the Indian Premier League, conceded that it never expected to go "scot-free" in the spot-fixing scandal that rocked cricket in 2013.
On Tuesday, Chennai Super Kings and Rajasthan Royals were suspended from the Twenty20 tournament for two years because of betting activities of their key officials, Gurunath Meiyappan and Raj Kundra, during the 2013 season.
The punishment was handed down by a Supreme Court-appointed three-member committee, headed by former Chief Justice of India Rajendra Mal Lodha, which held that the betting activities of Meiyappan, considered the face of Chennai Super Kings, and Kundra, former co-owner of Rajasthan Royals, brought the game of cricket, the Board of Control for Cricket in India and IPL into disrepute.
Meiyappan and Kundra were handed life bans from all cricket-related activity.
"I have not seen the Supreme Court order. When we see the order we have to check with our legal counsel what course of action we should take. We may not take any legal recourse also. Super Kings are only suspended; we can come back after two years. We have not been terminated," the official said.
Did the franchise expect such a verdict?
"See these things are very speculative and I can't answer that. This (IPL case) is something that has been going on for sometime now. We were not expecting to go scot-free; that everybody knows. The suspension is something we thought that might happen; we never said that it won't happen," the official added, while refusing to comment on the quantum of punishment.
Asked about the image of CSK being hit post the verdict, he replied: "That is right (image has taken a hit), but anyhow we will have to find out how best we can comeback."
He said it is too early to comment on the change in ownership.
"The verdict has only come out today and you are talking about selling shares. It does not work like that.
"Why should we (sell the shares)?"
"If we have to comeback after two years, we will comeback after two years."
- Also read:
- Justice R M Lodha: Law is in his DNA
- Full text of the Justice Lodha IPL verdict
- Key points of the Justice Lodha verdict
- Kundra disappointed with Lodha verdict, says many inaccuracies
Image: Chennai Super Kings players in a huddle before an IPL match
Photograph: BCCI