Beleaguered Board of Control for Cricket in India president N Srinivasan continues to be defiant despite calls for his resignation getting louder.
On Wednesday afternoon, though he did not say he will not step down, he clarified that he will have no say in the commission appointed to probe his son-in-law Gurunath Meiyappan's role in the IPL spot-fixing and betting episode.
Reacting to IPL chairman Rajeev Shukla's comments that he should stay away till the investigation is complete, Srinivasan said he was merely asked to "disassociate" from the BCCI inquiry against his son-in-law and Chennai Super Kings boss Meiyappan, who was arrested by the Mumbai police for allegedly betting on IPL matches and having links with bookies.
"I saw Rajeev Shukla's interview just now. It is very clear; he has clarified that what he says is that the commission has been appointed and I should disassociate from the procedure as stated.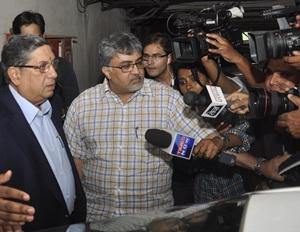 "In Kolkata, when I made the press conference, I said I will have nothing to do with the commission, its appointment, the terms of reference and its decision.
"He has reiterated what I said in Kolkata. I have nothing to do with the commission. The commission is independent, there are two independent judges and secretary of BCCI [Sanjay Jagdale]," said Srinivasan, in Mumbai.
The three-member committee includes former judge of the Karnataka and Madras high courts T Jayaram Chouta, justice R Balasubramanian, former judge of the Madras high court, and Jagdale.
The BCCI chief clarified that the commission is independent and has the power to impose sanctions.
"Under operation rules, they have got powers to sanction to impose punishment etc. So we just await that result," he added.
Earlier on Wednesday, Shukla had said he and BCCI member Arun Jaitley felt it would be good if Srinivasan stays away from the probe.
"We have suggested this to Srinivasan, but the decision is up to him whether to take our advice or not," Shukla said after meeting Jaitley in New Delhi.
"We discussed the matter with Board members and we spoke about the Board's and cricket's image as well. However, Srinivasan has also told us that he is not at fault and shouldn't be punished for son-in-law's fault," he added.
Image: BCCI president N Srinivasan leaves the BCCI's office in Mumbai on Wednesday.
Photograph: Sahil Salvi