Kolkata Knight Riders co-owner Shah Rukh Khan on Friday said he has no regrets that Sourav Ganguly was once dumped as captain of the Indian Premier League franchise.
Asked at an event if he was ashamed with the way he treated Ganguly, Shah Rukh replied in negative.
According to him, he did not humiliate Ganguly in any way.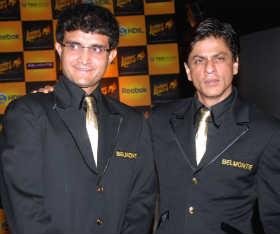 "I humiliated? My team did... they should apologise. I did not. I have no regrets at all. The team decides and the coaches decide, and I am not being diplomatic with this.
"I think we treated him well enough. Having said that, I think he is one of the greatest players the country has, but in that part of format of cricket, after three years, maybe the team management did not think it that way," the 47-year-old said.
Shah Rukh, though, admitted that it was a brave decision.
"To be honest, we took a big chance -- to be in Kolkata and not to have Dada... (But) I think we have proven that this team has done well with the leadership of Gautam (Gambhir) and the team management behind. So no regrets," said SRK, whose team won the IPL this year.