Another controversy rocked the IPL. An Australian player with the Royal Challengers Bangalore was arrested, on Friday, on charges of molesting an Indian American woman and severely attacking her fiancee leaving him in hospital.
The 27-year-old Australian player Luke Pomersbach allegedly misbehaved with the woman, a US citizen of Indian origin, at the Maurya Sheraton Hotel in New Delhi on Thursday night and has been arrested, police said.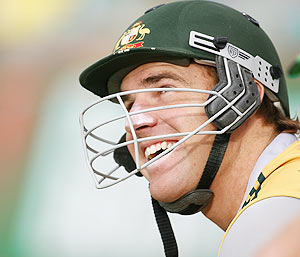 A case has been registered against him under various sections of IPC including section 354 of IPC (outraging modesty of woman), 323 (hurt), 454 (lurking house trespass) and 511 (Punishment for attempting to commit offences punishable with imprisonment for life or other imprisonment).
The woman said the player invited himself for some drinks with the couple and some common friends from Mumbai in their room.
She left the men alone and went to her bedroom for catching some sleep but Luke followed her and misbehaved with her, she alleged.
When her fiancee intervened, Luke allegedly beat him up, she said.
The woman's fiancee has been admitted to a hospital.
The woman claimed that pressure is being mounted on her to withdraw the case but she will not do so.
IPL Chairman Rajiv Shukla said the IPL had nothing to with this because the incident did not take place in any party organised by it.
"Let the law take its course," he said.
Denying the charge that IPL was full of controversies, Shukla said IP 4 and 5 were free of controversies till now.
However, BJP MP and former cricketer Kirti Azad alleged that the IPL "has given rise to many unsavoury things.Today's attempt to rape is one such".
He said foreign players were taking advantage of the conditions here.
The IPL was rocked by controversy only yesterday when Kolkata Knight Riders co-owner and Bollywood superstar Shah Rukh Khan faced the prospect of being banned from the Wankhede Stadium after an alleged scuffle with Mumbai Cricket Association officials.
Photograph: Paul Kane/Getty Images